Paintball is a game played by teams and individually against each other, by striking with best mag-fed paintball guns to stamp out other players. Its platform is consisting of forests and mountains along with artificial barriers and hurdles. The game is designed to capture the flag, eliminate others and defend oneself.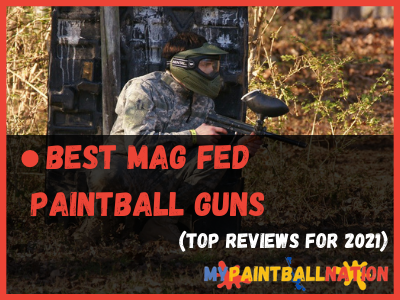 | Paintball gun | preview | Rating on amazon | Price |
| --- | --- | --- | --- |
| Dye Assault Matrix (DAM) Paintball Gun | | ⭐⭐⭐⭐⭐ | |
| First Strike T15 Paintball Gun | | ⭐⭐⭐⭐ | |
| KINGMAN SPYDER MR6 PAINTBALL GUN | | ⭐⭐⭐⭐ | |
| TIBERIUS ARMS T9.1 RANGER PAINTBALL GUN | | ⭐⭐⭐⭐⭐ | |
| VALKEN BLACKHAWK MAGFEED  Paintball Gun | | ⭐⭐⭐⭐ | |
| TIPPMANN TCR MAGFED TACTICAL COMPACT RIFLE PAINTBALL GUN 3SKULL 12RD MAG SET | | ⭐⭐⭐⭐⭐ | |
| TIPPMANN TPX PAINTBALL PISTOL STARTER KIT | | ⭐⭐⭐⭐ | |
| ELITE FORCE T4E UMAREX .43CAL WALTHER PPQ PAINTBALL PISTOL BLACK SEMI-AUTO CO2 MAGAZINE    | | ⭐⭐⭐⭐⭐ | |
| TIPPMANN TMC MAGFED PAINTBALL MARKER   | | ⭐⭐⭐ | |
Best Mag Fed Paintball guns
Here we will discuss in detail the best mag-fed paintball guns, to make your game more exciting. Magazine-fed paintball guns give you a more realistic experience, but the problem is faced by many of us is in its selection. 
It often seems difficult to choose the most feasible and light-weighted gun with our expectations.
Therefore, we came up with a solution, by listing down the best mag-fed paintball guns and their prices. We also try our best to let you know the online sites from where you can buy—the guns' rating and many other details.
So, let's start the list without wasting our time.
1. Dye Assault Matrix (DAM) Paintball Gun       
If you are thinking of getting a Dye Assault Matrix (DAM), for sure, it is one of the best mag-fed paintball guns. Its minute details include the grip which is extremely comfortable in your hand. 
The front grip feels great too, but it feels even better once you remove side rails. Changing the battery is easy because all you have to do is pop off one side of the grip. The trigger also feels great because it has vertical ridges instead of those horizontal ones like a TPX trigger. The power and fire selection buttons are easy to use too. 
It has a few attributes which make it unique from other makers. It has three shooting techniques that are semi-auto, burst fire, and full-auto. This function is handled by hit a button. It has a rivalry grade bolt, quick release system, feasible trigger frame, and many more.
Pros
lightweight due to aluminium body
two different calibres of paintball can be used
easy to customize
remarkable accuracy
Cons
a little bit expensive than others
OTF system get freeze sometimes
2. First Strike T15 Paintball Gun      

The first strike T15 is the best mag-fed paintball gun for any contestant on a game. Especially for the ones who are looking for a perfect gun without compromising its performance in the field. It can hit the opponents from very long range and have 20 rounds first strike magazine without flip and change. 
It has a very lightweight and durable aluminium body. Its design and realistic look are taken as one step further with the performance of an in-stock 13/3000 psi air tank.
First strike T15 is the best choice because it comes with two v2 magazines, not just one, so that's neat. It has 13 Cir tanks, bigger Handguard with a bunch of rail space on it which makes it unique. It is a semi-automatic gun and very compatible as one may expect it has a handguard and pistol grip.
Pros
comes with unlimited customizations
Consistency and unwavering quality potential
Better than expected construct materials
Cons
investment needed to get the marker functioning well
Exclusive barrel
3. KINGMAN SPYDmER MR6 PAINTBALL GUN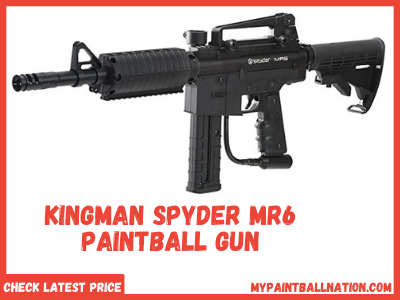 Kingsman spyder MR6 is basically the next version of mr5 that has been out before. It is a semi-automatic best mag-fed paintball gun. This marker runs off either magazine or hopper, and it has a unique feature where you can run both effectively in the same game. 
All you have to do is rotate a barrel, and it is switched from hopper to magazine. This gives you the option to run a hopper full of paintballs.
It is pretty cool, especially for entry-level players. Its features are extendable stock and removable AR-style back and carry handle plus a removable hopper feed neck. This gun is very affordable for anyone.
Its first impression is not much attractive. Its outer look gives you a feel of low quality and a toy gun. So I would like to recommend this gun for the beginners. 
Pros
can be run as magazine as well as hopper
recommended for entry level players.
affordable price
Cons
only for beginners
may feel you like playing with toy.
4. TIBERIUS ARMS T9.1 RANGER PAINTBALL GUN
It comes up in a nice sturdy plastic padded case. This is ideal, and the best mag-fed paintball gun for fireteam members. It's a lightweight gun and very helpful for shooting your enemy at some distance.
 Its accessory allows you to fit almost any arm length. Therefore, the hold on the gun is easy and supports our accuracy, and gives the gun a secure feel. 
A 1×30 red dot enhances the excitement of the game by more keenly targeted the other players. A Tiberius arm T9.1 is the best mag-fed paintball gun because it grants you the feeling of a real gun. It does not require an additional conventional kit for the accuracy of the first strike round.
Pros
lightweight feature helps shooting at any distance
designed to fit on any size hand
high accuracy
playing with  T9.1 gives feel like real gun
Cons
only for beginners
only good for long distance
5. VALKEN BLACKHAWK MAGFEED  Paintball Gun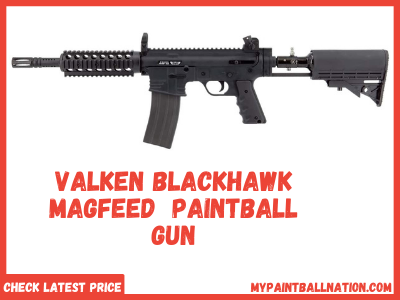 BLACKHAWK MAGFEED is Val ken's very first marker. It comes up in a full-length bag, so you do not have to disassemble your marker to store it. It has 13 CIA air tanks so you do not need to buy anything separately. This is also semi-automatic like others, so there is nothing super fancy in it.
Its magazine has 15 rounds, and they are first-rate compatible right out of the box so that you can shoot first Reich. As we know, it is the first model, so the small drawback is a gap between your trigger fingers and the magazine release button, so it is going to make your reloads weird.
 VALKEN BLACKHAWK mag-fed has the ability to hit the first strike and standard .68caliber. Extra parts are not required. It is a very moderate rate of the mag-fed gun. Recommended for both beginners and experts. 
One of the highly-rated guns with many positive customer reviews. The attractive feature is customizable and for sure, one of the favourite guns in the market.
Pros
very high accuracy reliability
easy to customize
don't need to disassembeld
Cons
Mag sometime release on the wrong side
6. TIPPMANN TCR MAGFED PAINTBALL GUN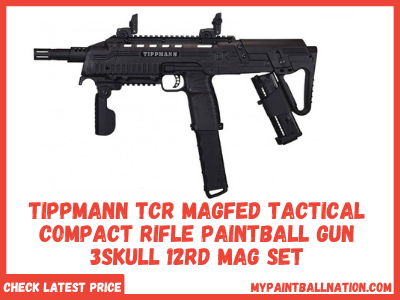 One of best mag fed paintball gun is Tippmann TCR mag fed. This looks great, feels very solid in hand, and has a ton of really cool little perks and features that you will really like. Let's have a closer look at the best mag-fed paintball gun, it does have a tried and testing Tippmann TI PX internals.
It has a high performance move the suction inch barrel right off. It has a multitude of positions and very low profile stock which is great and also has a magazine holder. The features of this gun make your money worth spending.
It's small in size and very comfortable, user friendly for new players. Its weight, size, and height make it more attractive and give real-time experiences.
Pros
comes with extra magazine holder
comfortable due to small size
suction inch barrel with high performance
Cons
the only cons is the size which is small and only for small hands
7. TIPPMANN TPX PAINTBALL PISTOL STARTER KIT
This is the newest and greatest handgun that is out by Tippmann in the TPX. The barrel for the TPX is 5 X 7 threaded, making expandable long and different size barrels. This builds great and got a ridiculously quality control board along the inside, so the consistency is incredible to improve your accuracy. 
Another key feature with this kills weapon system is the barrel. It has a removable tip just going to allow us to attach all sorts of different accessories, whether it is a silencers tips or any other item.
It is a compact and powerful full mag-fed gun with accuracy. this is slightly expensive when compared with its substitutes. Its cost is because of its high-quality material and design. It required gloves to handle them more easily. 
It is lighter in weight and size than others and comes with CO2 cartridges stored in a container under the barrel. These cartridges last for only a few magazines. This mag-fed gun is least recommended in cold weather.
Pros
Can be used as secondary gun
lighter in weight
Powerfull gun with high accuracy
Cons
a little bit expensive then other markers
8. ELITE FORCE T4E UMAREX PAINTBALL PISTOL
It's the .43 caliber paintball pistol;  shoots .43 caliber rubber balls. It standard 12 grams co2 cartridges which seems very nice, and it is semi-automatic with blowback action. It has a metal and polymer design so metal side polymer frame 9 round drops out all metal full-size magazine that holds the co2 and the ammunition.
I had said it is a double-action trigger and the reason I say that is because it is kind of like a striker fire gun. This best mag-fed paintball gun has acclaimed 290 FPS, and it is fully licensed, so it has the ppq Walther licensing via Umarex. It has yellow dot sights front and back with an adjustable rear sight for windage you can get it in two different versions that come in the all-black one.
If you want an affordable gun with some quality equipment, I recommend buying T4E Umarex and making your free time full of enjoyment.
Pros
Can be used as secondary gun
lighter in weight
Powerfull gun with high accuracy
Cons
a little bit expensive then other markers
9. TIPPMANN TMC MAGFED PAINTBALL MARKER
This last but not least one of the best mag-fed paintball guns has a hopper adapted along with 20 round magazines. It comes in a 12-inch barrel plus AR 15 style shroud. It has 4 pica tinny Ralls on both sides bottom and top so you can put on scopes lasers or sights that you want to.
also comes up with a 98 customs feed neck adapter to attach the hopper and use a gun instead of using it mag fed.
The gun's looks are very realistic, and its combination of black and tan colour makes it looks more real. This Tippmann's highest quality item and has gained a high rating and positive word of mouth.
Pros
Realistic look
high quality material
easy to customize
Cons
a little bit expensive then other markers
Few Basic Rules:
A referee is required for problem-solving.

A contestant is eliminated if he\she hit by a paintball gun.

If both players fired at each other at the same time, then both will be eliminated.

Predetermine the duration of the game. Usually, it is about 10 to 20 minutes.

If you are playing the flag game, one person must protect the flag at the station.
Safety Measures
All players must have to cover their bodies from tip to toe.

Mask \ goggles are mandatory to be worn.
Mag fed as a Dual Feed Functionality Guns
A player is always in search of having a gun with maximum paintballs. To make your game more smother, you should be careful while selecting your gun.
There are many dual-fed paintball guns available in the market, and those are user-friendly too. The requirement is to press only a button or to flip the barrel to use a magazine or hopper. It allows you to carry more paintballs before reloading.
The dual feed adaptor has a vacant interior on the top and the bottom. The top vacant space is for hopper storage which can be detached or connect to the gun at the time of need, and the bottom hollow is for the magazine. 
These guns are usually expensive compared to stripped-back Mag Fed models, but the cost is more worth than the potential offered by them. Using a dual-feed functionality gun is more reliable than holding two different types of guns while playing.
Capacity of Magazine
Best Mag-Fed paintball guns extend a lot more limited capability than standard paintball guns. Even though paintball magazines slightly different when it comes to lauding, do not be amazed to find that some magazines stock eight to ten paintball pods. 
This should not daunt the participants those enjoying military model games. 
The solution to the limited ammo capability of Mag-Fed markers, you will need to make ensure that you are carrying multiple magazines on your person while on stage. 
Dress up your personality in a strategic way so that the vests or harnesses should be available for enough space to carry additional magazines as you required. Keeping in mind that tournament games and certain gameplay scenarios may place a limit on the number of magazines you can have on your person at a time.
Aesthetics
The aesthetics of any product is very important to all customers. People can buy a replica product if its looks are fascinating.
Players of paintball games are also looking for a high-quality and realistic gun to enjoy the game at its peak.  A lot of mag-fed guns have been made using a high-quality replica of genuine firearms.
These replica products are affordable and not disappointing their customers in designs and looks. All you have to ensure is that the gun must be finished with good quality coated.
Customization of paintball guns
Best Mag Fed paintball guns should deliver plenty of scope for modifications and upgrades. Choose the markers that contain at least one extra rail as standard.
Although many Mag Fed guns already come with loaded essential accessories, you will surely need the liberty to assist scopes, magazines, sights, and lasers to your firearm. 
These updated products can also enhance marker overall military aesthetic of your marker, and give you a more realistic experience.
The durability of paintball guns 
If you are planning to buy the best Mag Fed paintball gun, and expect it to be your main marker, you should never compromise on the physique value. For the best outcome, gaze for carbon fibre models. 
This material is extremely durable and strong to daily wear and tear. It is light enough that it will not weigh you down, and you can use it for a long period of time.
Conclusion
           You can find the Best mag-fed paintball gun in the above-mentioned list0 it consists of the cheapest, and most expensive, and best mag-fed paintball guns. These guns are made for the best feel and real-time pleasure which takes satisfaction to the next level. 
This article consists of the best mag-fed paintball guns available in the market and with the help of comparison you can choose the most suitable gun for your game, then why waste time? Let's hurry up and buy the suitable best mag-fed paintball gun and start playing the game (a complete guide to play paintball like a pro). 
These guns are promised to be as good as they have been described above.
The best among all mentioned mag-fed paintball guns is the T15 with unique features and classical strike rate it makes it way much better than others. That is why it's definitely worth spending your money on this gun.
You can visit amazon to find your desired mag-fed paintball guns, and the description is enough to find what you are looking for if you are not looking for the regular game be sure not to spend a lot of money on it.
Get ready and make your choice to buy your favorite mag-fed paintball gun to enter the game and have a thrilling experience of playing paintball on the higher and challenging ground. 
Recommended Articles