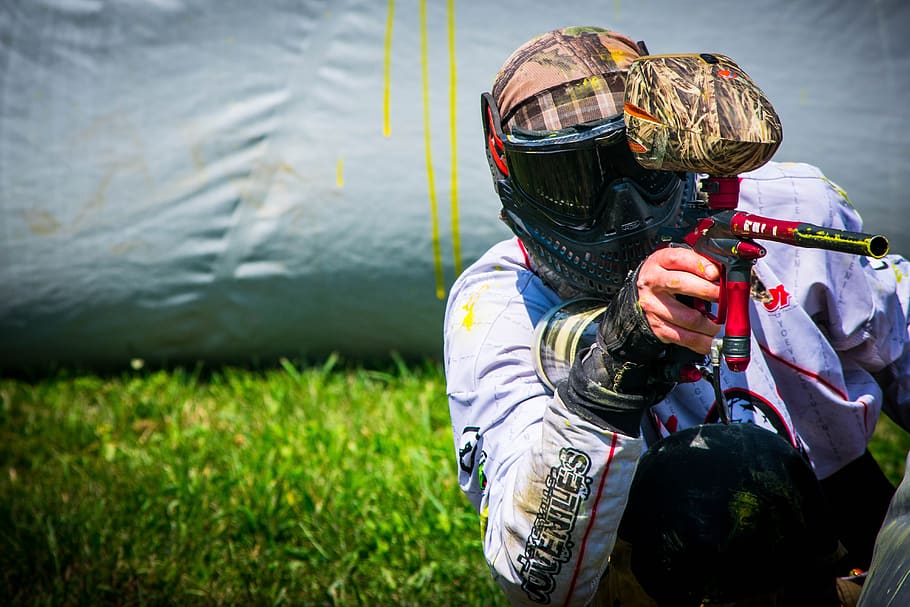 As a beginner, you can get overwhelmed by too much information on the internet on how to choose the best paintball guns for beginners. But most of the time, you may not find what you are looking for, because too much info can create more confusion. Keeping that in mind, we have reviewed top paintball guns just for the beginner, not for intermediate and pro players.
Our in-depth and well-researched paintball gun reviews are based on durability, performance, features, and price. The best paintball marker contains all of the four factors, as they are crucial for the marker. So, without further ado, let's get to the important part and find you a best starter paintball gun, which makes you fulfilled and motivated throughout the game.
Also Check our mag fed paintball gun review.
TOP PICKS
Best paintball guns for beginners
| Paintball gun | preview | level | Rating on amazon | Price |
| --- | --- | --- | --- | --- |
| Tippmann Cronus basic (package) – Best paintball gun for beginners | | Beginner | ⭐⭐⭐⭐⭐ | |
| Azodin Blitz 3 - Best Budget paintball gun | | Beginner | ⭐⭐⭐⭐ | |
| Spyder Fenix – Best entry-level paintball gun | | Beginner | ⭐⭐⭐⭐ | |
| Tippmann US Army Alpha Elite (Package) – Best realistic paintball guns | | Beginner | ⭐⭐⭐⭐⭐ | |
| Azodin Kaos 2 – Best cheap paintball guns for beginners | | Beginner | ⭐⭐⭐⭐⭐ | |
1- Tippmann Cronus basic (package) – Best paintball gun for beginners
Tippmann Cronus basic provides the best value for the money as it is very affordable and rich in features and is also known as one of the best Tippmann paintball guns. It is effortless to use and is the best option for beginners.
You can also get this paintball weapon alone without a package, but we chose the packaged version because it provides more value to the gun in less amount of money.
This package contains the following items such as Genx stealth anti-fog mask, Maddog CO2 tank (20 Oz), Gravity Fed Loader with 200 rounds, 6+1 Paintball Harness with six standard paintball pods.
Isn't it amazing that it provides all the above gear at such a low price? It is also a high performing maker with unbelievable durability as it is made of high impact composite material for the construction of the body. Which makes it ultra-lightweight and more reliable while shooting. It also has four Picatinny rails for quick and easy customization.
Some of the features are 0.68 cCalibers, semi-auto, which is adjustable from 250 to 325 PSI. in line bolt design from A-5. It can handle high pressure due to its internal Gas line and so much more.
You can also choose from different versions like Basic tan edition, tactical olive edition, and tactical tan edition.
Pros
Lightweight
Affordable
Best value for the money
Best for beginners
Highly durable
In the beginner's category, no one can defeat the package version of the Cronus marker. That's what makes it the best paintball guns for beginners.
2- Azodin Blitz 3 – Best Budget paintball gun
Azodin Blitz 3 is yet another one of the best paintball guns for beginners. It is not a fancy looking gun but believes me it is equipped with all the necessary features which you need on the battlefield.
The design is simple yet very effective in terms of durability, performance, and reliability. It is very lightweight (2.15 lbs. including the barrel and battery) but it does not let it lose the overall impression of being a good marker.
The design also allows you to use both CO2 and HPA although CO2 is getting obsolete day by day because it is more expensive and more hazardous for the gun. This gun is a runner up on our review list due to its mind-blowing features.
As for the features, Azodin Blitz 3 has a fire rate of 20 Bps, which is amazing for a starter gun. It is also easier to use due to a new presser feather regulator. The rapid-fire trigger frame is made out of composite material reinforced with nylon and glass Fiber which makes it long-lasting.
It's a bit loud but have you seen any marker which is not?
Pros
Very lightweight
Low maintenance
User friendly
Affordable
Best value for the money
If you want to get rid of the renting marker for each gameplay, you should go for this gun as it is one of the best beginner paintball guns.
3- Spyder Fenix – Best entry-level paintball gun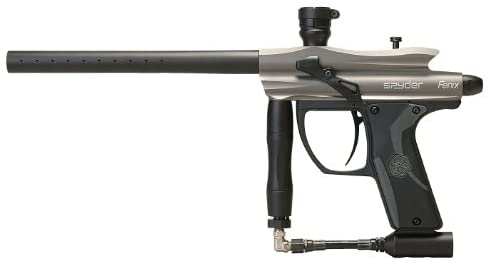 Spyder Fenix is a type of gun that can boost your confidence in the field due to its cool look and higher accuracy because the better the gun the higher the confidence which leads you to better gameplay.
It has all the features which are required to make it able to compete with other top-notch markers. Moreover, it is a very user-friendly, highly durable, cool look that makes you stand out from others, high performance, and reliable gameplay.
As for the features it is made up of very sturdy material. Just like an airsoft gun Clamped fed neck, can shoot up to 1400+ balls due to its air-efficient EKO valve system. It also uses a 20 Oz CO2 tank, which makes it enable us to shot 25 balls per second. You can switch between three modes, the Ramp PSP, Semi-automatic, and Ramp Millennium.
The design is a little smaller which can make it hard to hold for a bigger player.
Pros
Less noisy
High accuracy
Durable
Lightweight
Cool looking
There are many more features to it which makes it stand apart and one of the best on our review list.
4- Tippmann US Army Alpha Elite (Package) – Best realistic paintball guns
If you are an enthusiast of military guns and want something that looks real, then Tippmann Us Army Elite Marker is the best option for you. Not only it provides a cool realistic look but also a high level of performance and handling. You can also buy this paintball weapon alone but in the package, it provides more value for the money.
It's a highly customizable marker with a lot more features than others. It has two versions of electronic and mechanical at different prices. You can always go for anyone one of them, it depends on your likings.
In packaged version, it comes with anti-fog goggles, gravity feed hopper, CO2 tank which can shot 1000+ balls in one filling, a four-pod belt, and more.
It can be a little more advanced to use than other makers on our review list but after 1 or 2 gameplays you will feel addicted to it.
It might be a little heavier if you are just starting to play.
Pros
Realistic look
Highly customizable
Highly durable
High fire rate
Good accuracy
Cons
A little heavier than other beginner makers
Overall if you want to have an impact during the battle and want to look like a pro then this gun is the best option for its realistic and bold look.
5- Azodin Kaos 2 – Best cheap paintball guns for beginners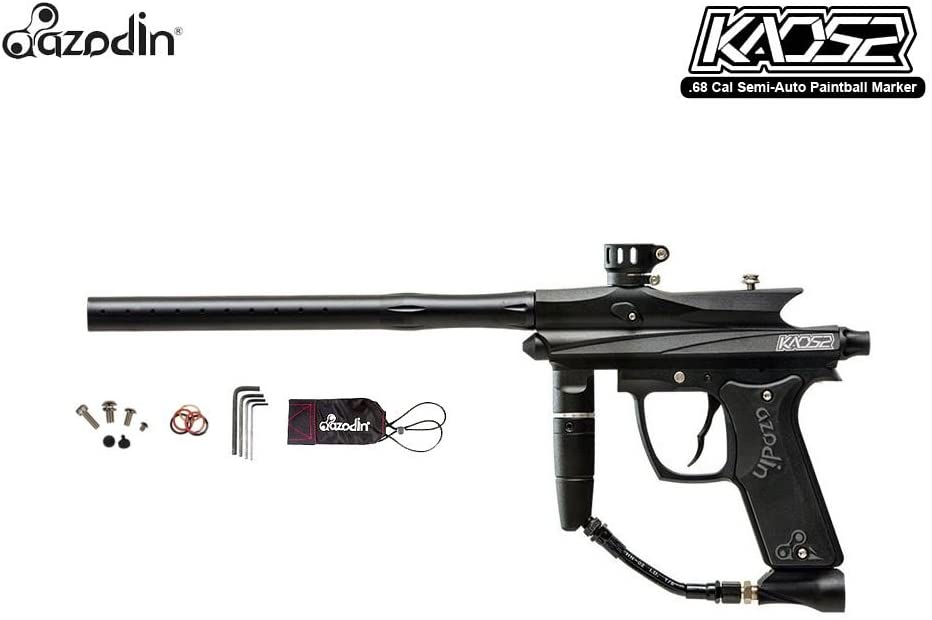 Unlike the Azodin Kaos, the Kaos 2 comes with more technological advancements, which make it more user friendly, zero proprietary systems for velocity, and higher performance.
It is the cheapest paintball gun on our review list, and it provides amazing features at such a low price. Weighing less than 2.15 lbs. It makes it way easier to carry around and use on the field. It is trendy among beginner players because of the high quality it provides.
You can always make more improvements by reading the manual, which is provided inside the Kaos 2 box. The box also contains a toolkit and barrel bag, which come in very handy. Kaos 2 has built-in two-ball detents that make sure no paintball slips out the barrel no matter which ball size is used.
The moveable fed neck can also be tightened to stop the paints from passing through the barrel. The auto cocker can also help in the barrel upgrades. You can pick from both CO2 and HPA for your tank. You can also perform fast action double trigger shots which a range of more than 55+ feet.
The rubber on the handle provides a firmer grip which also makes it more accurate and less slippery.
Pros
Very cheap price
Lightweight
Durable
Accurate
Customizable
Cons
Slightly noisy
Compatible with some hoppers
If you have less budget and want more quality marker than this is one the best paintball guns for beginners.
The ultimate buyer's guide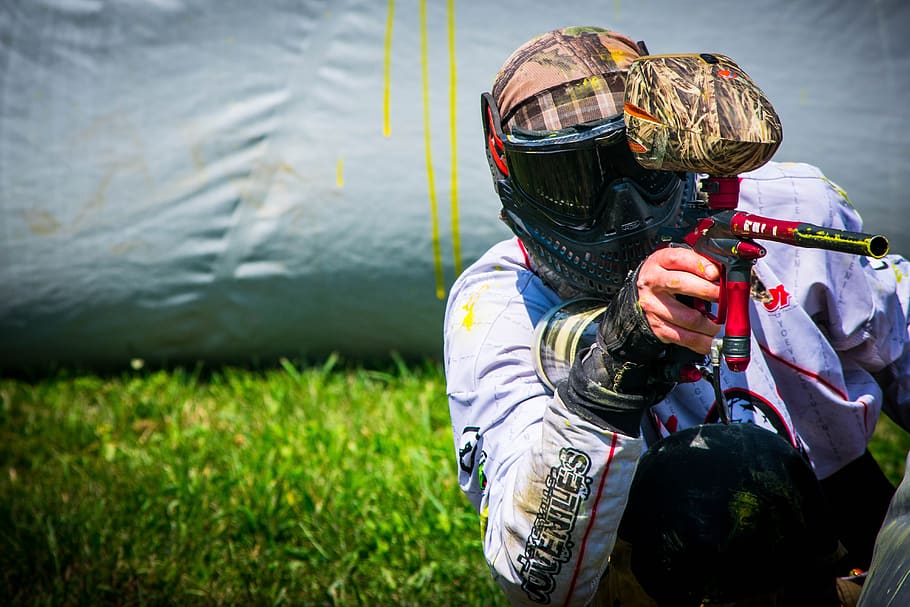 You must consider these things before buying a beginner paintball gun
For beginners, it might be hard to choose a marker, and no doubt, everything is hard in the beginning, but as you go with the flow, things will get more comfortable day by day. Read this guide if you are confused or have any queries.
Types of Paintball markers
There are three significant types of paintball guns having different technologies. Each class has pros and cons, but it depends on your usage and type of game.
Electronic
As the name suggests, the electronic paintball gun is powered by a battery. This is the modern technology used in many markers. Although they were expensive when it was introduced now, you can also find a good quality electronic marker in different brands. They are faster than other markers and have a rapid-fire rate.
Pump
When the paintball game was first introduced all around the world, pump markers were the only choice available. Also, know as OG markers, they are also tough to use because of manual operation.
You should buy these types of guns for competitive gameplays as it requires more time to load and have shallow range and accuracy. You can only use it if you want to have fun in your backyard.
Mechanical 
Mechanical markers are popular among beginner players because they are easy to use and maintain. It is semi-automatic; you have to pull the trigger each time to play a shot. But they are very noisy, and the fire rate is slower than the electronic markers.
Types of propellants
Nitrogen
It is not recommended by the players as it is expensive. Although it was used for some years by pro players but when HPA came out, nitrogen became the last choice of players.
HPA (High-Pressure Air)
HPA revolutionized the paintball industry and is now used in almost 98% of gameplays as It is available everywhere and very cheap. The HPA tanks come in two variants, 3000 PSI and 4500 PSI.
CO2
It was once the top priority for players, but as HPA came out, things are not as they were before. Moreover, most high-end and modern paintball markers are not even compatible with CO2.
Barrel types
The barrel is a crucial component of the marker. It is placed at the front end of the marker, is responsible for accurate and smooth shots. The better the barrel, the more accurate shots you play. There are different types of barrels in the market, so we are going to discuss it in detail
Stainless steel
It is heavier than other barrels and is not commonly used by players, as it is not very durable and accurate. Moreover, they are also costly as compared to different types of barrels.
Aluminum
It is considered one of the most high-quality barrels available in the market. It is lightweight and plays more accurate shots. They are also known for their durability and cheap price.
Ceramic
They are also not very common among player because it has many drawbacks. They are not shock resistant and usually crack after some gameplays. But they are easily available and are very cheap, so you can still use it for enjoyment.
Titanium
They are more expensive than other markers and have high machine time also not very long-lasting. But they are very lightweight, even lighter than Aluminum.
Carbon Fiber
Carbon Fiber is the latest technology of them all. They are undoubtfully very amazing to use. It provides a high level of accuracy and durability. They are very lightweight, as well. But they are very expensive and are used for a higher level of competitive battles.
For a more detailed buyer guide, please visit the best paintball gun reviews.
FAQ's
Q1: What is the most accurate paintball gun?
Five most accurate paintball guns for beginners in 2020
Q2: What guns do professional paintballs use?
Top Guns used by professional players
Tippmann TMC Magfed
Azodin KP3.5 Kaos
Q3: What is the best automatic paintball gun?
Top automatic paintball guns
 Planet eclipse etha 2
 Azodin Blitz 3
 Empire BT Dfender
 Azodin KP3.5 Kaos
Q4: How much does a good paintball gun cost?
A good paintball gun can cost from $60 to $400. But if you have enough budget, you can always go for Tippmann Cronus basic for the best value.
Q5: Can a paintball kill you?
It may not kill you, but it can cause serious injuries if you are not wearing proper gear. That's why we recommend you always use important gear like masks, pads, and jackets.
Q6: How far will a paint gun shoot?
It depends on the type of marker you are using, but on average, it can shoot up to 100+ feet.
Q7: Can a paintball gun break a window?
It depends on the thickness of the glass, but usually, they can shatter the normal glasses into pieces.
Conclusion 
We always try to bring value to our readers, and that's why we choose the best paintball marker available online. Paintball is a very vast industry, so there are many options available for anything related to paintball. while reviewing the best paintball guns for beginners, we chose the best of the best guns ever.
you can also check other reviews like best paintball guns and paintball guns under 300 by clicking the highlighted area of this sentence.
We are always open to any recommendation you might want to give to put more value in our paintball reviews.
So, feel free to contact us for any queries.
Recommended Articles
How much does a paintball gun cost?