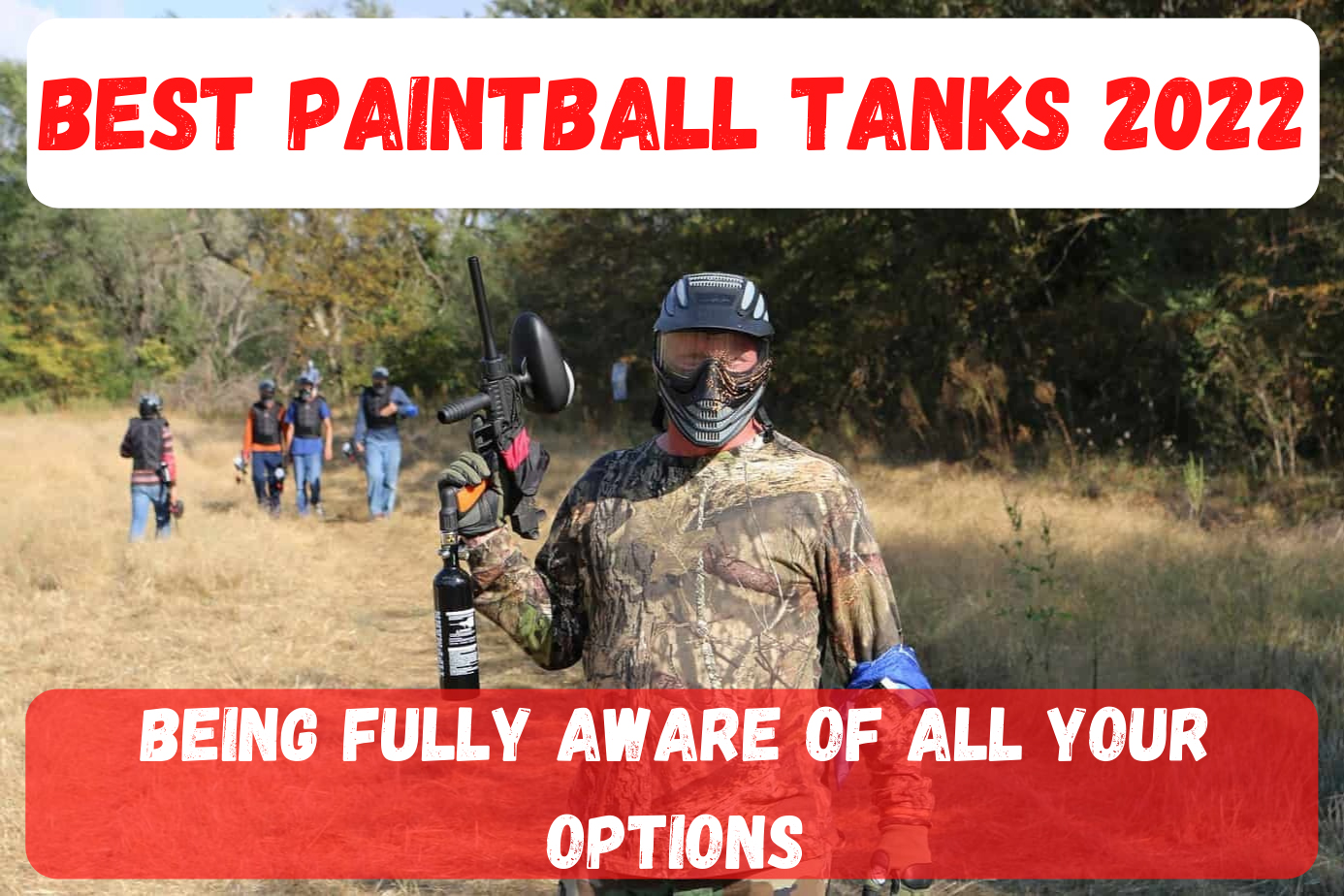 Having the Best paintball tanks is one of the most important pieces of equipment which you need to carry in the field, so you should be well aware of the paintball tanks in the market. If you are into paintballing you might already know the significance of air in paintball.
The paintball tank allows you to carry this air along with you on the battlefield. Various types of tanks with different capacities are retailed in the paintball world. It is a hassle to select the best one from a wide range of thousands of tanks.
This article will help you get your hands on the most suitable paintball tank for you. Below we discuss the top 10 paintball tanks, their Pros and Cons to help you choose between them. 
Have a glance at the evaluation of all the amazing paintball tanks discussed below and get ready for a remarkable experience.
Best Paintball Tanks 2022
| Paintball gun | preview | Rating on amazon | Price |
| --- | --- | --- | --- |
| Empire CO2 Tank | | ⭐⭐⭐⭐⭐ | |
| Ninja Compressed HPA Paintball Air tank | | ⭐⭐⭐⭐ | |
| Empire Basics 3k tank | | ⭐⭐⭐⭐ | |
| Empire Paintball carbon fibre air system | | ⭐⭐⭐⭐⭐ | |
| Ninja 4500 PSI carbon fibre Paintball HPA tank | | ⭐⭐⭐ | |
| Maddog aluminium paintball tank | | ⭐⭐⭐⭐⭐ | |
| Ninja Air Aluminum HPA N2 paintball tank | | ⭐⭐⭐⭐⭐ | |
| Tippmann Aluminum CO2 paintball tank | | ⭐⭐⭐⭐ | |
| First Strike Hero Guerrilla Compressed Air HPA Paintball Tank | | ⭐⭐⭐⭐⭐ | |
| Empire ultra HPA carbon HPA | | ⭐⭐⭐⭐⭐ | |
1- Empire CO2 Tank - Best Seller Paintball tank
Empire CO2 tank is worldwide utilizing tank by paintball players. What makes this tank amazing is easy access to it. You can get this tank easily from any market that supplies paintball equipment. 
This air tank does not come in raw form. It comes after extensive testing. Empire CO2 could be ready to use on the battlefield just after unboxing. 
Empire CO2 air tank is solidly built. It is equipped with the strongest repeater pin valve. This valve makes it reliable and dependable on the field. This CO2 tank can be connected to the gun easily with the help of its easy-fit body. 
Its cylinder is made up of aluminum which makes it durable yet extremely lightweight. You can have a great game experience with this tank without having to worry about the breakage.
this tank can be refilled at a reasonable cost. Once you buy this air tank you would want to take it to every game you plan to play. It is the best offer for this price in the market.
Pros
Has a strong pin valve.

Comes after extensive testing.

It is ready to use.

High reliability. 

Very lightweight.

Refilling is not pricey.
2- Ninja Compressed HPA Paintball Air tank - best lightweight tank
The size of this HPA air tank is ideal for paintball. Ninja compressed HPA Paintball tanks are the priority of many players. This tank performs greatly in the paintball field and never disappoints the players. 
This tank is not very small and allows you to secure a good amount of air in your paintball tank. Furthermore, carbon fiber material makes it lightweight and strong. 
This HPA air tank has a great capacity of having an amount of air for a good two to three rounds. It is very manageable and portable. You can carry it easily to the field and the good thing is it won't ever limit your activity while playing. 
Pros
Made of carbon fiber

It is very lightweight.

Ideal size.

Results in firing accurate shots.

Is able to manage two to three rounds before refilling.
3- Empire Basics 3k tank - Best affordable paintball tank
Empire basics 3k tank is a very affordable option. Many beginners prefer to buy this air tank. Despite being very reasonable it is also very durable. One can easily rely on this tank.
aluminum material makes it very lightweight and easy to carry. You can easily upgrade to a compressed air tank from a CO2 tank with this by staying on a budget.
The Empire basics tank has a capacity of 3000 PSI and it comes with a built-in regulator which is a plus. This is a very reliable air tank. You can enjoy as many as 700 shots with the help of this tank. Its bonnet is easily replaceable and it has great efficiency.
Pros
Built-in the regulator.

Very affordable

Easy maintenance.

Can help shooting around 700 shots.

Reliable. 
Cons
It is lightweight but still heavier than other fibre tanks.
4- Empire Paintball carbon fiber air system -High-quality paintball tank
This paintball air system again is very reasonable. the high-quality carbon fiber material is used to build the Empire paintball air system. This material makes the tank very durable and preferable for paintball games.
This is not heavy in weight instead it is very lightweight. It has a regulator built with aluminum. It is very efficient and functions great. This tank has an amazing stability rate and performs well on the field.
It is capable of securing a good amount of air since it has a capacity of 4500 PSI. It also has high-pressure disks which make it safe to use. This also fulfills all the requirements of paintball which allows the player to play fearlessly.
Pros
Made up of high-quality material.

It is lightweight.

Has a built-in regulator?

High stability.

Very safe to use.
5- Ninja 4500 PSI carbon fiber Paintball HPA tank - Best anti freeze paintball tank
Ninja 4500 PSI carbon fiber tank is basically an HPA tank. It is used and recommended by many paintball players. Ninja 4500 is made up of carbon fiber which can be considered the best material for paintball air tanks.
It is very lightweight and compact. This makes the paintball experience a hundred times better. It has a great outer body and an incredible look. This tank is available in various colors. You can choose to have a tank of your favorite color.
This tank works amazingly and is desirably smooth. This will let you shoot accurately in the field and you won't regret its purchase. The best part is unlike some air tanks it does not freeze up easily.
Pros
Lightweight.

Durable.

Good at regulating air supply.

Made up of carbon fiber.

Prevents freezing.
Cons
It is not very affordable.
6- Maddog aluminum paintball tank
If you are looking for the best tanks for your paintball gun this can surely be a part of your list. Maddog paintball tank is a CO2 tank so if you want to spend on a CO2 tank this is preferable.
It is particularly made up of aluminum that too of very good quality which is durable and can stand harsh paintball games. It has a capacity of 20 oz of air. This has the capability of shooting around 1000 shots without the need for refilling.
It can hold great pressure too and still works smoothly. Investing in such good equipment is not a bad idea and this should definitely be considered.
Pros
Made up of high-quality material.

Lightweight.

The capacity of 20 oz air.

Very affordable.
7- Ninja Air Aluminum HPA N2 paintball tank
Ninja Air HPA N2 paintball tank is another great option to choose from. It is made up of aluminum material which makes it strong and reliable. Many paintball players carry this tank along with them to the field and are highly satisfied.
Its pressure is adjustable which is a great feature. Paintball players can easily adjust the air setting starting from low to high. It is advisable to use this tank with remote line paintball guns. 
You can shoot up to 200-400 shots with the help of this air tank. It has a good air capacity. It is convenient to carry and easy to maintain. Moreover, its performance is mind-blowing.
Pros
Made up of strong good quality aluminum.

Pressure is adjustable.

Allows 200-400 shots.

Works fine in harsh environments.

It is compatible with guns having a remote line.
Cons
It is relatively heavier.
8- Tippmann Aluminum CO2 paintball tank
Tippmann is a huge name when it comes to paintball. It is famous for providing the best paintball equipment which is durable and reliable. The best thing about the Tippmann aluminum CO2 tank is that it fulfills all the requirements and standards set by the paintball facilities.
This tank comes in a perfect size which is ideal for paintballing. Constructed with durable strong aluminum material. It is not prone to breakage. Tippmann aluminum co2 paintball tank comes in different sizes starting from 9 OZ going up to a capacity of 20 OZ.
It has a built-in regulator and a pin lock adapter. Refilling this tank is also very affordable and will not cost you much. Spending on such a good product is undoubtedly a good choice.
Pros
Safe to use.

Comes in different sizes.

Very durable.

Has a built-in regulator.

Comes with a pin lock adapter.

Reasonable refilling.
Cons
Not as lightweight as other tanks available in the market.
9- First Strike Hero Guerrilla Compressed Air HPA Paintball Tank
Hero guerrilla compressed air tank is another good option if you are looking for a compressed air tank. Many intermediate players prefer this tank over the other tanks readily available in the market.
It is made up of aluminum but is not extremely heavy instead it has a manageable weight. Despite being of good quality this is an affordable option one can choose from.
It is designed perfectly to fit best with paintball guns and balance them while playing. It has a compact design. This product is reliable when it comes to playing. It has a plastic cap and an extra burst disk for protection.
This is a great deal including both affordability and quality at the same time. 
Pros
A good compressed air tank.

Affordable.

Made up of good quality material.

The design is very compact.

Built-in plastic cap for protection.
Cons
Scratches may appear and get visible.
10- Empire ultra HPA carbon HPA
Empire ultra HPA is an excellent choice, made in the US. It is desired by many paintball players. It is very durable and performs greatly on the battlefield. This tank is 30% lighter than most of the tanks available today.
It is made up of carbon fiber. This material makes it extremely lightweight. This tank is very promising and won't disappoint anyone who chooses to buy it. Its cylinder is about 80 inches.
It is very stable when it comes to shooting and has a good air capacity. It is capable of firing accurate and consistent shots. The best thing is that you can enjoy a great paintball experience for a good amount of time with this. It allows playing for a longer period without having to refill the tank.
Pros
Very reliable.

Lightweight.

Made up of strong carbon fiber.

Cylinder of 8 cubic inches.

Comes with a regulator.
Cons
It is not on the affordable side.
What to look for when buying a paintball tank - Buyer's Guide
There are some key features you should always look for prior to the purchase of paintball tanks. The complete important guide you have to know before purchasing a paintball air tank is discussed below.
Type
Paintball air tanks come in a variety. The two very popular types of these tanks are CO2 tanks and compressed air tanks. It completely depends upon the player to choose one and buy the one which best suits him.
CO2 air tank is very affordable and is used by many players. Different companies offer this tank. Moreover, CO2 is cheap and easily available for refill. One drawback of using CO2 is that it is not very eco-friendly.
The second type is a compressed air tank. This tank is slightly on the pricey side but is not bad for the environment. One major disadvantage of this is it is prone to freezing.
Another variant of a compressed air tank is the high-pressure air (HPA) tank. This tank prevents freezing and allows smooth gameplay. Again this is a bit expensive but is preferable by many.
The player can make the best decision for himself by comparing the pros and cons of different products available in the market.
The tank size
The size of the tank is another vital feature you should look for. Paintball air tanks are available in different sizes. Players should choose the tank according to their physique.
The tank measuring unit is cubic inches. The most widely used tank is the medium size. It is the ideal size for paintballing. This size fills in a good amount of air remaining lightweight which makes it preferable.
One of the popular sizes is 68-4500. This means that it can store air up to 68 cubic inches. Furthermore many other sizes are also available. These include 50-4500, 77-4500, and 90-4500.
A tank with the size of 90-4500 is the biggest retailed tank and is very huge. Ideally, it is preferable to go for a 68-4500 air tank.
Tank material
Different paintball tanks are made up of different materials. All paintball tanks are priced differently according to their features and the material used in their making.
The paintball tank materials include steel, aluminum, and carbon fiber. The steel tank is the oldest and cheapest of all. It is not prone to breakage and is strong. The disadvantage of this material is that it makes the tank heavy.
Now the air tanks made up of aluminum material are relatively light in weight. They are slightly more expensive than those made up of steel. Many people willingly invest in these to get a tank that is lightweight. Although this is not as strong as steel. Dents may appear on it and it is also prone to breakage. 
Lastly, the carbon fiber tanks are 30% lighter than the other tanks. This is the best material for paintball tanks. The tanks made up of carbon fiber are very strong which makes them durable. Despite being strong they are also very lightweight. this tank is a little bit expensive as compare to others. It comes in high-end paintball equipment. Professionals ideally buy these. If you can afford one of them it is surely the best choice for you.
Sturdiness / Durability
You should always look for a tank that is durable and strong. A tank should be capable of surviving harsh environments in the field. You would not want to spend on something that is easily prone to breakage after a few rounds of usage.
Get yourself a tank that can survive all the activities on the battlefield. Make sure the paintball tank is strong yet lightweight. Steel and carbon fiber tanks are relatively stronger than aluminum tanks.
Weight
It is advisable to buy paintball air tanks that are lightweight. Heavy and bulky tanks can distort your activity on the field. Heavy tanks can limit your hand and body movements.
You should buy a tank that is lightweight but not prone to breakage. A tank that is strong and lightweight at the same time is preferable. You can decide for yourself what to buy but make sure the weight of the air tank is ideal for you.
Built-in features
Different paintball tanks have different features, comes with different materials and compositions. They include a combination of various features. You should first look for all the features in the tank before its purchase.
The best way of choosing a perfect tank is to compare the features of various tanks and then deciding between them. In this way, you can definitely find something suitable for you.