Tippmann 98 custom review is the most burning question asked on the internet. It comes up with matchless accuracy, realism, and consistency.
Tippman always comes with unique features and model and make their guns outstanding in the market. Players highly demand this marker because of its esthetic and durability and the option of customization.
Tippman 98 custom Review – Key Features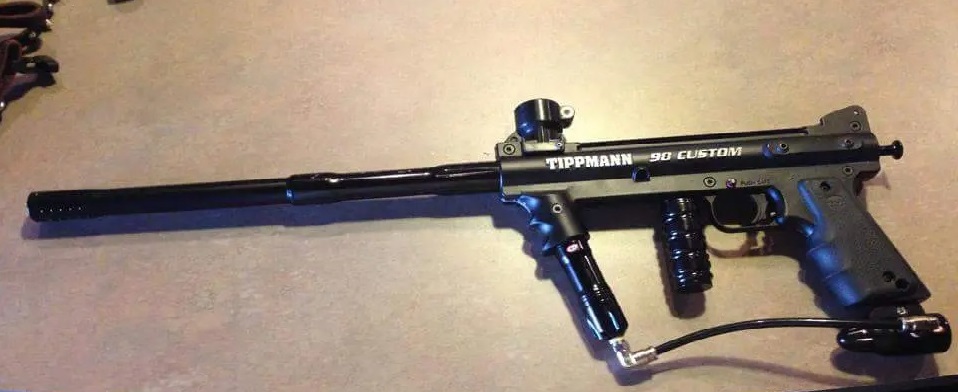 Specifications
It is a Semi-automatic gun.
Easy to modify
In-line bolt mechanism
Aluminum frame
.68 caliber
11 RPS Cycle Rate
The barrel size is 8.5 inches
Distance covers up to 150 feet
500 plus shots per fill
Vertical front grip
Easily detachable power tube
Split receiver design
Picatinny rail (scopes + handles)
Pros
comes with high durability
can be customize in multiple ways
don't need day to day maintenance
smooth grip
Cons
comes with long size
somehow the slowest shoot gun
One of its significant features, which a player is looking for, is its dependability. There are few guns in the market which break the paintballs during the game, but this is not implacable for 98 custom.
It uses a new technology known as anti-chop; therefore, it prevents paintballs from breakage. You can consider this as the most dependable gun as compared to their competitors.
Most professional players of the paintball game are using this marker. Tippmann maintains its reputation high in the market and ranks as a leader of all other guns.
It's about quality, design, durability, or esthetic. It is one of the leading companies for making markers for paintball players.
The attributes deserve special attention as they are providing an exclusive model of Tippmann 98 for several years. The guns body is decorated with high quality and more durable frame from its previous model.
The Best Entry Level Paintball Marker
There is no doubt that the 98 custom is one of the most selling paintball guns on the market. It earned widespread popularity. It has extreme reliability, durability, and a crazy variety of modernizations and accessories available, which makes it one of the most adaptable entry-level paintball guns on the market.
Tippmann is at the top of the list in manufacturing the best paintball guns, and they have the expertise of creating high-quality and unique featured paintball guns. Indeed, this is the best choice for anyone looking for their first and primary markers.
Tippman should be at the top of your list, opting for your battleground's best quality gun. The new members of the paintball firing field will enjoy it because it is straightforward to operate and it does not require frequent cleaning because of having anti-chop technology.
The 98 custom is a semi-automatic paintball gun right out of the box, with a decent fire rate of 8 balls per second. Not too shabby at all!
Tippman's shooting power is quietly unmatchable. The shooting capability is very similar to the high quality and premium gun, which are expensive. Just hitting at the proper position and focus will help you while playing.
It has a high potential for upgrading and customization characteristics. You can search for its positive words of mouth from professional players as they won many games with 98 custom models.
It operates on either compressed air or CO2. ASA blade sights are provided along with the adjustable variety as well.
One problem you may find is that it recoils a little more than your expectation. But in return, this affects the quality of uninterrupted shots. If you are an advanced player, you might find the stock barrel relatively shorter for added precision and range.
Tippmann 98 Custom upgrades
This gun is specially designed for players to give them a real military scenario. The concrete structure is a definite way to protect the shelter. The brilliant aftermarket extra specifics are breathtaking.
Besides, the Flatline Tippmann case is ideal for restoration and sports. Tippmann offers a wide range of trunks.
The Custom model with anti-chop technology is appropriate for learners in homegrown competitions. It is suspect to be beneficial in top-level competitions. As soon as starting the game in a modern battle, the marker immediately reveals its shortcomings in the battleground.
Most Popular Tippmann 98 Custom Accessories
Tippmann 98 Custom Price and services
Tippman builds a high-standard reputation in the market with first-class customer support and services. They have their helpful website to answer the queries for customers and giving them after-sale services.
Tippmann also offers its customers the warranty card of 1 year on defective parts to value their customers and take care of their entertainment.
In the segment of pricing, they are a highly affordable brand as compare to their competitors. Its high-quality accessories will reduce maintenance and repairing costs, which is attractive for players.
Being a trendy brand, you can easily find their product and accessories in almost every local sports shop or even those that do not store gears.
Their packaging and inbox accessories are enough for trainee players, therefore they do not have to spend extra money on its adjustments. Proudly, they have many loyal customers as well.
We can say that this is an above-average product with high-quality frames. The Marker is built with solid material and a long-lasting effect. It must be a good option for games and staging events.
It is genuinely a reliable marker for all types of players and games in paintball.
Tippmann 98 custom is undoubtedly a worthy investment, it is high in demand because of anti-chop technology.
So guys, what are you waiting for? quickly orders your gun and enjoy your vacations along with your friends and family.
Good Luck!