Choosing the best paintball sniper Rifle from numerous options in the market can be a great hassle. We have compiled a review of the top 4 rated snipers for you. Now you can easily choose the best one among them without having to research hundreds of snipers.
Snipers are elegantly designed and are perfect for long-distance shots. Many guns can be modified into a sniper, but its best to buy an actual sniper for remarkable performance.
Different paintball snipers have different features. Some have long barrels, while the others are easy and convenient to grip. Some do have amazing silencers in them, and some of them have a sleek outstanding look.
Snipers are particularly the best paintball guns for players who want to shoot from distances and want accuracy in shots. Snipers usually have a very classy look and imitate actual battlefield experience.
Best Paintball Sniper Rifle
| Paintball Sniper | Preview | Price |
| --- | --- | --- |
| Tippmann A-5 Sniper Paintball Gun | | |
| Spyder MR100 Paintball Sniper | | |
| Dye DAM Assault Matrix Paintball Sniper | | |
| Tippmann U.S. Army Project Salvo Paintball Sniper | | |
1. Tippmann A-5 Sniper Paintball Gun
Tippmann A-5 Sniper paintball gun is the best choice if we talk about snipers. It has a sleek look and elegant design. The size of its barrel is 16 inches. The best thing is that the barrel has little pits, which immediately release the gas while shooting, which results in quiet operation.
The long barrel makes the sniper capable of shooting accurate shots in the field. This paintball gun is undoubtedly very reliable. It has a built-in red dot light, which is great for indicating the aim and enhances vision in the dark.
The outer body of the sniper is made up of aluminum, which makes it durable. It is effortless to maintain. The gun can be disassembled in as low as 1 minute and then can be assembled again.
Controlling this sniper is very easy as it has an adjustable stock. This stock can also be removed according to the Player's preference. Tippmann A-5 sniper has excellent performance on the field.
It is a low-profile paintball sniper and has an in-line bolt system. Furthermore, if you want it to be capable of rapid-fire, then it can be modified easily.

It is possible to turn A-5 into a fully automatic sniper paintball gun.
Pros
High durability.
Both CO2 and Compressed air works fine with this sniper.
Very reliable.
Aluminum body.
Capable of shooting accurate shots.
Cons
Not very lightweight.
The hopper can block the vision of players.
2. Spyder MR100 Paintball Sniper
This gun has a fundamental paintball gun design. Spyder MR 100 was launched in 2012. It is a machine gun that is relatively easy to operate. It is made up of aluminum, and the black matte color gives it a classy look.
This sniper is famous for its feed neck and great hopper system. It has an evolve valve, and it is capable of shooting around 1500 shots that too with only 20 oz CO2. MR 100 gives stable and accurate gameplay.
The foregrip is made up of aluminum, and it gives excellent control over the sniper. This gun has an excellent grip overall since it is covered in rubber. This is the most suitable gun to shoot accurately even from a considerable distance
Another great feature of this gun is the anti-double feed system. This system allows just one paintball to move towards the chamber at a time. This results in consistent shooting and prevents the breakage of paintballs.
Pros
Lightweight.
Convenient shooting.
Both CO2 and HPA can be used.
Good accuracy.
It has an adjustable strap to carry.
Cons
Hopper can disturb when playing.
Air is leaked while shooting.
3. Dye DAM Assault Matrix Paintball Sniper
Dye Dam assault matrix paintball sniper grabs the attention of many since it offers the best features at the most affordable price. If you plan to buy a sniper rifle, then this DAM paintball gun is the supreme option.
It has a classy camouflage design, which lets you hide in the field while playing. Also has a surprisingly realistic look. It is capable of shooting with accuracy for up to 100 yards.
DAM paintball sniper comes with multiple grips, which ensure a convenient holding experience. These grips give excellent control over the gun. It has a 14-inch barrel through which you can shoot quickly, even from a long distance.
It has a magazine feed system and a loader feed system too. The Player can easily switch between the two as per his liking. It has a reasonable gas frame, which hides the gas line and makes it more presentable.
Another remarkable feature this gun possesses is the adjustable firing modes. You can select to play in semi-automatic mode, three-round mode, and fully automatic mode.
This gun is capable of shooting round paintballs as well as bullet-shaped paintballs. This gives a more realistic feel on the field and enhances the game experience.
This gun is a great package. The Player gets everything in this gun, which can be expected from high-end guns only. The best thing is that it is retailed at a very reasonable price. This means now you can get your hands on it without spending a massive amount of money.
Pros
The approximate weight is 4 pounds only.
It has both magazine feed and loader feed systems.
Capable of shooting bullet-shaped paintballs.
Cons
There are no significant disadvantages to buying this gun.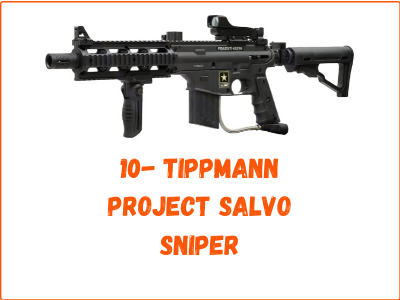 4. Tippmann U.S. Army Project Salvo Paintball Sniper
Tippmann project salvo paintball sniper looks a lot like the AR-15 gun used in the military. This remarkable design gives an excellent battlefield experience. It is the first choice of many paintball players who prefer a sniper rifle.
Tippmann is famous for its in-line bolt system. This system is installed in Salvo Paintball sniper, which makes it a fantastic choice. The length of this gun is perfect for someone who shoots from a long distance.
It has a barrel, which is 11 inches in size, and it is covered in a shroud that is more like AR-15's shroud. There are Picatinny rails in this shroud. For excellent stability, it has built-in stock, which is adjustable.
The best part is the feed neck is at one side, which means it won't distort the Player's visibility. Small tools can be stored in their magazine. This sniper is very durable since it is made up of die-cast aluminum. This material makes it capable of surviving harsh environments.
It is preferable to operate it with compressed air for more excellent stability; however, it works fine with CO2. It is good to be used straight out of the box.
Multiple attachments are also offered with it, which can be attached or removed as per preference.
Pros
Made up of die-cast aluminum material.
Designed very realistically.
It is compact.
A handy tool kit can be used to keep small tools.
Cons
It fires at a slower rate.
Not as lightweight as other markers.
What is the best paintball sniper rifle?
The choices of different players may vary when it comes to choosing the best paintball sniper. Above, we discussed the best four picks of snipers for you. Therefore you can select the best from them for yourself according to your personal preference.
There are some things you might want to consider while buying a paintball sniper. The style, price, design, shooting abilities, and different features can inspire you. The most important things to look for are the type of your game and how frequently you play.
Firstly you need to know that different paintball guns are designed differently for various games. A player can choose to indulge himself in a variety of paintball games.
The most common paintball games are woodsball, speedball, Military simulation, Conquer the flag, King of the hill, etc. Now not all of them have the same requirements. This means you have to pick a paintball gun wisely.
For instance, if you plan to play speedball, you might want to own an electronic gun. An electronic gun is capable of shooting multiple fires at a time. Speed is the primary requirement for the game. In this scenario, it is not advisable to choose a sniper at any cost.
On the Other hand, a sniper is preferable and highly advisable for games like woodsball and military simulation. These types of paintball games require you to shoot from a distance. Sniper helps in firing accurate shots from an even longer distance.
Similarly, it is hard to run with guns with longer barrels. If you are in a position where you need to run a lot, it is not advisable to use a sniper. The main reason is you need to use guns that are compact, lightweight, and have smaller barrels.
Snipers are preferable if you have to shoot while hiding or from a distance. Snipers let you maintain distance from your opponent and still shoot effectively. These are all the reasons which make the style of play so important.
Now the frequency of your gameplay is also important while choosing any paintball gun. If you are not a frequent player and play paintball once in a while, you should go for cheaper guns.
However, if you play regularly, you can invest a fair amount of money in a gun. This is because you should buy a durable gun that is capable of bearing wear and tear.
On the contrary, if you only play for fun sometimes or on holidays, you should not buy a gun. You can instead rent a gun and save many bucks. Now again, you should make a wise decision based on how often you play paintball.
What feed system is best for paintball sniping?
The two feed systems are mag-fed and hopper-fed systems.
Both of them work fine with a sniper. It depends upon you that what to choose.
The hopper allows you to keep many paintballs at a time while a magazine is compact and easy to attach. The hopper can sometimes cause hurdles in seeing things by blocking one's vision. At the same time, the magazine can only hold paintballs up to 10.68 calibers.
Now, if you want to carry a lot of paintballs, go for a hopper-fed system. But mag-fed is best if you're going to keep your gun compact.
A sniper can shoot up to 150 yards, but it can vary from model to model.
Many models are available which are capable of shooting long-range shots. Many guns can also be upgraded to shoot at long range; however, it depends on how much money you are willing to spend.
It would be best if you aimed high for accurate shots. However, it depends on your aim. There are various tactics of shooting in different scenarios.