Paintball is one of the most captivating games, and what makes it fascinating is its exciting tools and equipment needed in the battlefield. If you are someone looking forward to paintballing first, you need to know that along with all the necessary supplies and paintball equipment. You also need to muse over some limitations and suggestions for what to wear for paintballing. 
If you are interested in paintballing, planning your very first experience in the field, or even if you already excel in this and need to know what to wear paintballing, then there is nothing to worry about this article has it all.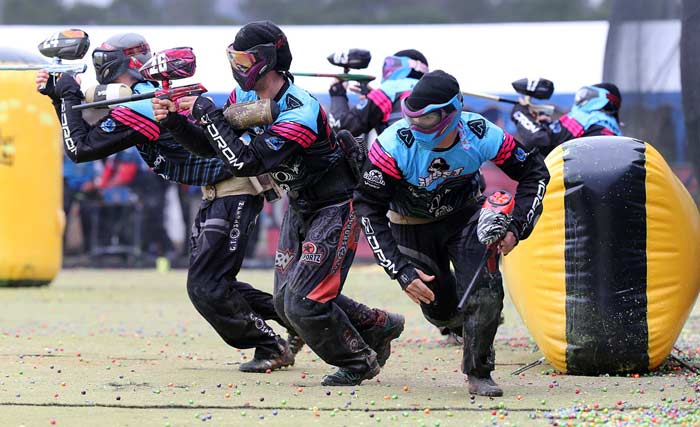 Since paintball is a game including targets and gunshots, the paint bullets might hurt. Paintball stings when it comes in direct contact with unprotected skin. The key is to wear shirts with long sleeves to protect paintball stings. The more exposed bare skin is, the more are the chances to get welts and bruises.
To minimize skin exposure, it is advisable to wear proper paintball outfit and wear loose shirts with long sleeves and to avoid wearing casual shirts and traditional t-shirts. Dark-colored jackets and long sleeves shirt of multi-layered fabric would be preferable.
The appropriate way of getting dressed for paintballing is just to ensure there is minimum skin exposure by wearing paintball protective gear, so anything that covers most of your body is suitable.
2) Pants for paintballing
Once your upper body is appropriately covered and is all set for paintballing now the second most crucial part of your body that needs to be protected from exposure are your legs. Paintballing involves a lot of running and activity that too on rugged and steep grounds which is a significant concern.
The pants you will be wearing while paintballing should be of great comfort so that the running or activity is not limited or harmed in any way alongside the pants also needs to be strong and

thick so that your shank is well protected and secured. The pants should preferably be of a dark color and evidently of full length.
The best choice is to wear paintball specific pants, but one can also wear jeans, cargo pants or even sports pants but something of half-length like shorts and three quarters are not advisable at all. Wearing something that is not full length will result in a lot of scratches and discomfort, which will later act as a hurdle in the field and will distort your activity.
The main aim is to protect your skin from unnecessary exposure, and as long as your body is fully covered, you are good to go. 
3) Gloves for paintballing
One should not even think of paintballing without gloves. Gloves are the most critical and essential part of getting geared up for a paintball experience. Since the whole concept of this shooting sport revolves around the usage of hands, hands are the most exposed part of your body in this sport while pointing your gun towards your opponents.
More exposure means more chances of getting hit by a paintball so to protect your hands, and you will need a pair of gloves.
The significance of gloves in paintballing makes it a wise decision to plow some money into a good pair of gloves. Secondly, it is essential to choose the correct type of gloves required for paintballing.
Again the most desirable gloves are paintball specific gloves, but a bunch of other types of gloves may also work fine. These include weight lifting gloves, golf gloves, football gloves, but it should be kept in mind that the gloves should serve the purpose without affecting the trigger handling and ruining the shooting experience.
Avoid thick and slippery gloves like winter gloves and welding gloves should as these might make it difficult to grip the gun properly and make it challenging to play the sport.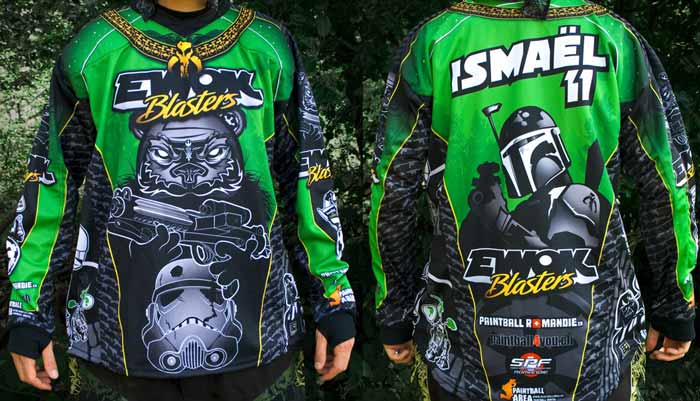 A jersey is part of paintball clothing and mainly designed for the sport keeping all the essential notes and requirements in mind. Moreover, it is always great to wear a customized jersey of your own to the game you love this does fulfill not only all the requirement of the costume but also gives a great feeling and sense of belonging to you and your team.
Similarly, several players enjoy wearing customized paintball jersey in the field furthermore different paintball jerseys are designed for different types of paintball games.
 The fabric used in speedball jersey is different from that of woodsball. A speedball jersey is made up of lightweight fabric that enhances the bounce experience while playing.
In contrast, a woodsball jersey has blended colors and patterns that help players get camouflage in the surrounding. Not only this but there are different jerseys of vibrant and catchy colors also available, so a player has a wide range of variety to choose from.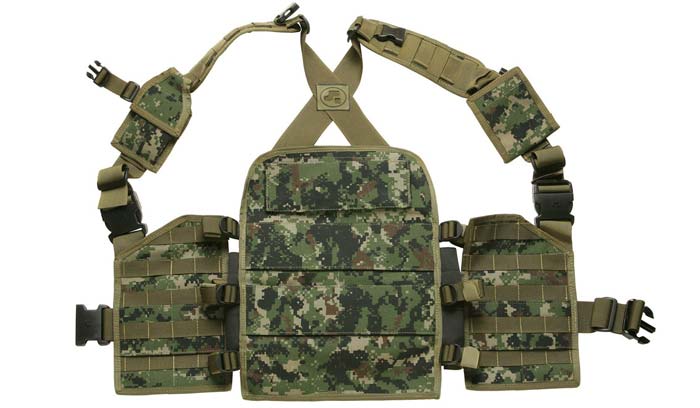 A vest is specifically designed to hold essentials that one might need on the battlefield. It has multiple pockets and sections to keep different things secure. Personal belongings, water bottles, watch, maps, etc. can be kept in these pockets. So it is advisable to wear a paintball vest while paintballing.
A player might need a lot of stuff during woodsball, which is why a paintball vest is desirable; it will not only allow you to bring things to the field but will also keep it secure and intact. This one-time investment is a win-win as it will enhance the paintballing experience and can be donned in the field multiple times. 
Sports like paintball involve a lot of running, crawling, bending, shooting, jumping because of which the players are often prone to injuries. If you are someone who likes to play this sport regularly, then investing in a good head protection gear is necessary. You should be appropriately equipped with essential protecting gear and tools before diving right into the field.
Good head protection gear might include goggles, face mask, and a cap or helmet to protect the head and face. you can also check out the best paintball mask if you are into buying one for yourself. In this way, one can protect himself from getting injured and can enjoy the sport without worrying about the injuries. Proper head protection is significant for the safety and security of the players.
The good thing about this protection gear is that the mask and headset come in different appealing designs and vibrant colors, and one could choose between them according to personal preference and comfort. In addition to this, the head protection should fit you properly and should remain intact throughout the game.
An off sized headgear might disturb and ruin the whole experience of paintballing. 
7) Shoes for paintballing
Shoes are a vital part of a paintball costume, and you need to choose wisely between the options because this particular sport requires a lot of activities such as running climbing, etc. Most importantly, the shoe should be decided based on comfort. A comfortable shoe is all you need in this game. If the shoe leads to discomfort, one cannot stand long in the field. A variety of shoes are available in the market.
Different types of shoes are mainly made for various purposes, so while selecting one for paintballing, you should always choose according to the type of your game. If you are into woodsball, you might want to choose a shoe that is durable, comfortable and has a lot of support to your ankle similarly running shoes or soccer shoes are not preferable for this type of game.
But if you are looking forward to playing speedball so you can choose between running shoes or cleats. On the other hand sliders and open sandals should be no one's choice while playing paintball or any such sport. 
Again one should decide what to wear according to the type of sport and his comfort, but a wrong choice of shoe can be of significant harm, so it is recommended to choose from the options given earlier according to which suits you the best. 
Pod packs are pods or little compartments attached to a harness that can be worn around your waist. These carry the extra paintballs that you might need later on. There are two types of pod packs readily available in the market these either have the pods attached horizontally or vertically to the harness.
Some people prefer the vertical pod packs since it is more comfortable to wear the seeds vertically. Still, it can be a hassle removing them or putting them back in place while the horizontal pods are easily obtainable.
The easy approach to horizontal pods also makes it a drawback as they can easily slip from the harness and even a player might find it difficult to crawl or lie down on the field with these pod packs on. 
Ghillie suits are comfortable yet auspicious for many paintball players. It is of great advantage to especially woodsball players since it allows to camouflage easily and hides from the opponents, making it a choice of numerous players.
These suits today are easily available in the market and can be purchased from any store that deals in sports supplies. Gillie suits are also available on different online stores, and many suppliers deal in them on various online platforms which make it easily accessible so you can now find one assuredly according to your preference. 
10) Other items to prepare
Once you are all geared up with proper clothing items and equipment, there are also some other items to make. Do keep in mind that there are other little items too that you might need after or during the paintball battle. These items include a water bottle necessary to keep yourself hydrated.
Some towels and cleaning material to clean dirt and paintball stains. A map often time is also of great need, some garbage bags for the trash and stained clothes after changing and most importantly an extra jacket just in case you need one if weather changes unpredictably. 
Important clothing tips to remember:
How to dress for paintball
Firstly you need to know the correct items of clothing that you need to choose from, and once you are all set to leave for the battlefield you should remember some essential clothing tips such as follows:
Choose your clothes according to the weather
If you are in a cold region, you should wear multiple jackets and sweatshirts to protect yourself from catching a cold. On the contrary, if you choose to play paintball in summers, you would want to wear a thick piece of clothing that covers your body. Avoid dresses that will make you uncomfortable in the scorching heat.
Don't wear new clothes
A pro tip is that you should always wear clothes that are old and which you can easily afford to get dirty and ripped. While playing paintball clothes are prone to damage, so it is better not to wear a new piece of clothing to the field. 
Dark-colored clothing is advisable
You should choose to wear clothes that are of dark color so that the paintball stains do not get visible. Also, it might be easier to camouflage in dark colors, and one is quite apparent when wearing light and vibrant colors. 
Layering
You should add multiple layers of clothing to protect your skin and body from paintball stings, but during summers too many layers can also cause discomfort to layer is a good choice, but weather conditions should be kept in mind. 
Ensure that the body is fully covered
There should be no or minimal exposure of bare skin so that it can be kept protected and secure. Each part of your body should be covered while playing paintball.
Have some protection for your neck too
You should consider wearing neck supports or protective pads to secure the neck area since the neck is a very sensitive part of your body; it needs maximum protection while playing any physical sport like paintball.
Avoid wearing valuables
One should never wear jewelry to the battlefield because in this way you can prevent it from getting lost. These ornaments can also harm you while playing, so it is better not to wear such things when playing sports. 
Conclusion:
Wearing the right thing and gearing up with proper equipment is the key to success in paintball. Now that you know exactly what to wear and how to keep your body protected and secure, you are good to go and ace the game. Just remember the tips to get dressed appropriately and eliminate any sort of discomfort and unease in the battlefield.