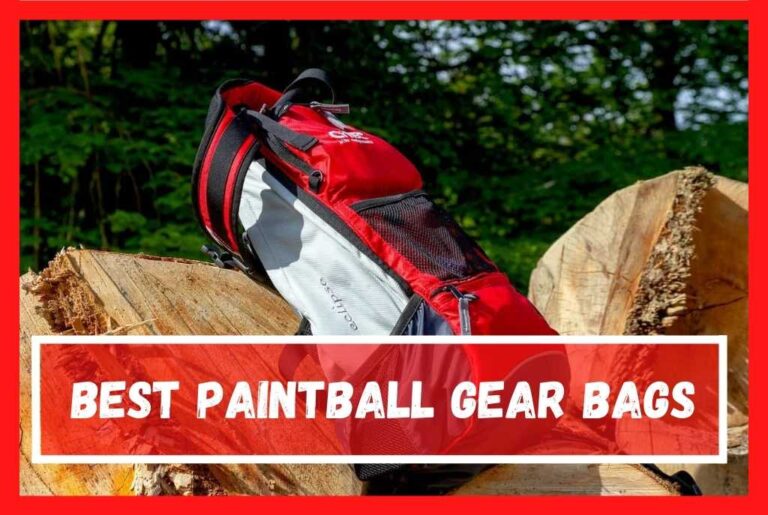 Being a paintball gamer, you may have plenty of paintball gear but would be thinking about where to keep them all. Furthermore, you will be thinking of purchasing a regular bag to keep all the stuff, but it won't be worth it. So it is preferable to pick the best paintball gear bags designed and manufactured specifically for paintball players. As an enthusiastic player, you need a bag to store your items, so you shouldn't waste your money on useless purchases rather than getting one that fits your needs.
But, if you find it difficult for yourself to finalize which gear bag best fits your demand, then you've come to the right place. These are some of the best paintball gear bags for battlers.
The good things about Paintball Gear Bags
As paintball comes with many gears and accessories such as paintball guns, ammo, etc., you will need to carry them around with you. Therefore, you should have bags to help you take all the stuff effortlessly. Additionally, the paintball gear bag features a larger vacant space with some internal and external pockets for carrying everything you need to play Paintball.
Why do Paintball Gear Bags exist?
As mentioned above, you need a bag to store all paintball-related items, but it is not done here; you should keep some things explained below as well. 
1. Consistency in transportation
You might not be able to carry everything you need to play Paintball one by one because Paintball requires lots of equipment and gear. You have to travel around towns, cities for numerous battles, so taking all of this stuff in a typical bag might exhaust you. Therefore, the paintball gear bag serves many purposes since most bags do not always match and are often made to meet paintball specifications. The paintball gear bag can be carried by the shoulder wherever you go and can be slung over your shoulder without causing any trouble for you. 
2. Saving items from Moisture
It would be best to have a paintball gear bag for your good and avoid your gear getting wet while playing. Most of the paintball gear bags are designed to be waterproof to keep your equipment from getting wet or ruined. Therefore, it is recommended that all the buyers acknowledge whether the bag resists moisture or not; for that, you should check each gear bag in detail. 
3. Partitions in the Bags
Compartments help carry more gear at once and reduce the hassle of looking for alternatives, which most people want to have when buying paintball gear bags. The main compartment holds more oversized items like guns, masks, elbow pads, etc. Several pockets on the bag can hold paintballs, grenades, pens, and more.
Top 5 Best Paintball Gear Bags
| Paintball Gear Bags | preview | Rating on amazon | Price |
| --- | --- | --- | --- |
| 1. HK Army Expand Gear Bag (Stealth) | | ⭐⭐⭐⭐⭐ | |
| 2. HK Army Expands 75L Roller Gear Bag | | ⭐⭐⭐⭐⭐ | |
| 3. Dye Paintball Discovery 1.5T Rolling Gear Bag | | ⭐⭐⭐⭐⭐ | |
| 4. Virtue High Roller V4 | | ⭐⭐⭐⭐⭐ | |
| 5. Planet Eclipse GX2 Classic Paintball Gear Bag | | ⭐⭐⭐⭐⭐ | |
HK Army Expand Gear Bag (Stealth)
Those who need gear bags with the utmost features to satisfy you should consider HK Army Expand Gear Bag. 
The bag's unique feature is its expandable bottom, which gives it an additional 30% space. Furthermore, it is perfect for beginners and hobbyists who need to carry all the basic paintball equipment with themselves. 
Additionally, this bag features two pockets containing small items; the pack also includes molle straps for adding more stuff. Velcro straps or molle pouches can be attached in place of the belts.
Each barrel has a separate loop on the side with a padded pocket for a marker and a Pocket lined with microfiber that stores your mask. Overall, this can be used by users who look for stylish bags with numerous color options.
HK Army Expands 75L Roller Gear Bag
Product from the HK Army comes with a larger body compared to the above-explained product. 
Moreover, it features a telescopic handle and wheels, so it's perfect for transporting more equipment, such as equipment for far-away games. With these all features, you can find four pockets on the outer body of the bag with molle webbing and Velcro for attaching various tools.
The critical characteristic of Molle webbing is that it isn't only helpful in attaching small things, but it also stops them from falling into the main compartments when the bag is full.
The top handle can be used to roll the bag on a surface. Below the handle is a compartment for two pairs of goggles lined with microfiber. You will find a large open compartment inside where you organize all your stuff.
There are two mesh pouches on either side of the marker's compartment and a zippered compartment in the opening section. These zippered pockets have none of the padding found on the external pockets.
Dye Paintball Discovery 1.5T Rolling Gear Bag
Many users usually seek to find the compact paintball gear bag, so Dye Paintball Discovery 1.5T Rolling Gear Bag is up to their demand. Furthermore, to get fabric and design that can withstand even the harshest treatment, Dye has equipped the bag with top materials with the assistance of top engineers and professionals who have great expertise in the field.
Most importantly, a subtle design, an oversized handle, and a telescopic handle make this bag stand out. The bag is made with a ripstop material on top so that when you tear the top, the tear does not extend, and you only lose the shape of the bag.
Unlikely, the bag does not come with external pockets, but the interior has lots of pockets to keep things in them. In addition to this, the compartment has a zippered pocket inside. However, the divider connecting the container to the big one can be removed, making the whole thing one big box.
The bag contains removable Velcro dividers that you can use to arrange the inside however you'd like. Otherwise, it can be left as one large compartment. Aside from the oversized wheels, we love Dye's hard bottom with two runners for added stability. The heavily padded handles provide extra comfort.
Overall, its color is black and contains a logo on the side, making it aesthetically more attractive.
It's the Virtue High Roller V4 that's our top recommendation if you're looking for a paintball gear bag that blends travel convenience with advanced technology. This bag upgrades its V2 model—several easy-access external pockets. Another large room provides a place for dirty cleats and clothes to be thrown into the padded goggle compartment. You will find three pockets on the outside, and two compartments on the inside where you can put your paintball gun. Besides the backpack straps, there is also Velcro on the back case to be secured.
The mesh-lined straps ensure sweat doesn't get stuck, and any smell is rapidly removed when using it on your back. Using the compartment cover, you can protect your back from dirt and mud.
Planet Eclipse GX2 Classic Paintball Gear Bag
A good choice for those who prefer better bags is the Planet Eclipse GX2 Classic Paintball Gear Bag. This bag has a small zippered compartment on the side and velcro areas outside. It has two wheels and a carry-on handle on the bottom, two runner attachments on the back, and a telescopic handle on the top.
An internal compartment and a zippered section are beneath the ID pouch. In addition to the partition, there is a flap with several zippered pockets on the sides, and three zippered compartments are in the opening flap. You will find a padded foam bag to hold the paintball gun as part of the bag. You can also use this bag as a divider when it is not necessary to have the padded foam bag.
Getting to the paintball fields is also easier because the grey color hides dirt well.
There are a few things to consider when choosing a Paintball gear Bag
Choosing a perfect paintball gear bag with many functions will almost always be a headache for buyers since plenty of options are available. Therefore, we have gathered some things to help you pick the one for yourself. 
1. Measurement of the gear bag
A gear bag's size will determine the number of items it can hold. Also the size of the bag describes the number of pockets and compartments it contains. If you know what you are looking for, choosing the right gear bar should be more accessible. 
Your bag size affects how many items you can fit in it. If you are not a keen fan of the game and don't play the game frequently, you shouldn't get an oversize bag. 
2. The bag's design
When selecting a gear bag, you have to know the type of bag you are looking for. Gear bags have a variety of designs, each with its unique features. If the sling fits comfortably over your shoulder and you can carry it quickly since you will be moving from one place to another, go ahead.
3. A bag's reliability
The durability of a gear bag is a crucial factor when choosing one. Whatever bag you choose, get one made with durable materials and will last you a long time. Paintball gear bags are designed to take the beating that comes with dumping, thrashing, and beating the game demands. Others are perfect for a one-time weekend outing, while others are meant for outdoor use. 
4. Portable and easy to carry
It would help if you considered the ease of carrying the paintball gear bag. Knowing how much weight you can handle and how much padding is comfortable for you in your bag. Heavy bags are also considered good, with good padding for damage control. If the load is serious, and the items you are carrying, you will have difficulty maintaining it. 
5. Ensures waterproof protection
When playing Paintball, you can go through different conditions like mud, sand, water, snow, etc. Your bag should be water-resistant so that it lasts longer. Most people opt for a water-resistant bag.
You are at the end of the article, so we hope you now know a lot about the best paintball gear bags while reading the complete guide and some well-known products. Additionally, having a durable bag is very important for those who play Paintball regularly. 
Overall, we recommend going through the article thoroughly if you are still confused about the gear bags.