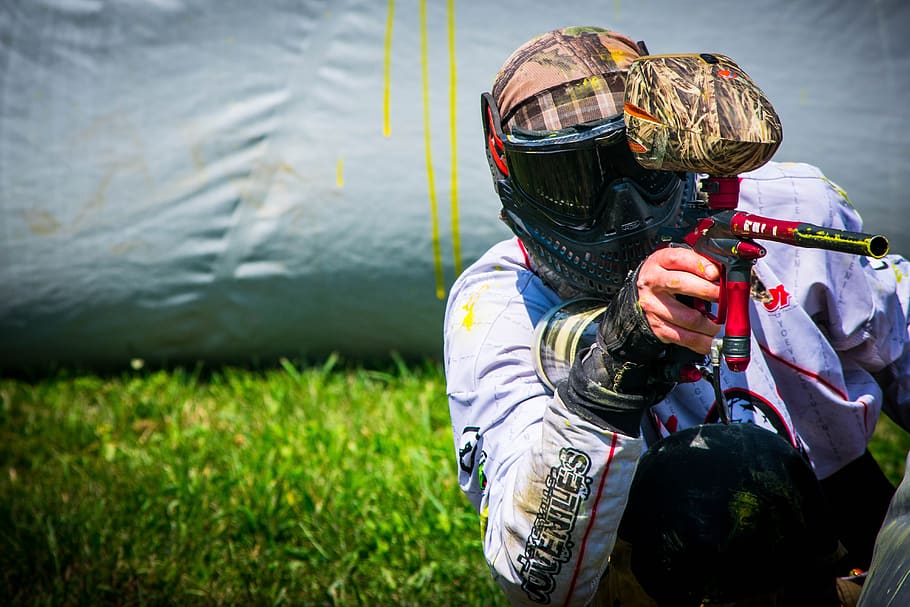 As an outdoor sport, paintball is an enjoyable, skillful, and competitive game. Choosing the Best Paintball guns are must Whether you are a pro or just starting. After all, don't you just hate it when your gun stops working during a paintball battle, and I know this feeling. But Don't worry, I've prepared a list of the best guns ever.
Durability is a very crucial part of a paintball gun, so a gun needs to be long-lasting. After doing comprehensive and in-depth research on the paintball industry, I wrote a detailed review of the top paintball guns available (also known as paintball markers) in terms of durability, performance, and accuracy. It also includes all the valuable information and buyers' guide that you should consider before buying your marker.
TOP PICKS
Keep reading, and find out the gun you've been dreaming of.
Best Paintball guns 2021
| Paintball Gun | Preview | Weight | Level | Rating on Amazon | Price |
| --- | --- | --- | --- | --- | --- |
| Empire BT Dfender - Ultra fast paintball gun | | 6 Lbs | Intermediate to pro | 5 ⭐ | |
| Planet Eclipse Etha 2 - Best paintball gun | | 3.5 Lbs | intermediate to pro | 5 ⭐ | |
| Tippmann A-5 - Best paintball gun under 300 | | 11 Lbs | beginner to intermediate | 4.5 ⭐ | |
| Tippmann TMC MAGFED - Best MAGFED Paintball Gun | | 6.6 Lbs | beginner to intermediate | 4.5 ⭐ | |
| Tippmann Cronus Basic - Best budget paintball gun | | 10 Lbs | beginner to intermediate | 4.5 ⭐ | |
| Tippmann 98 Platinum - Best Beginner Paintball Gun | | 11 Lbs | beginner to intermediate | 4 ⭐ | |
| Tippmann US Army Project Salvo - The Realistic Paintball Gun | | 9 Lbs | beginner to intermediate | 4 ⭐ | |
| Tippmann Cronus Tactical - Best Tactical Paintball Gun | | 4 Lbs | beginner to intermediate | 4.6 ⭐ | |
| Empire Mini GS - High-end Paintball Gun | | 1.2 Lbs | intermediate to pro | 4.5 ⭐ | |
| Planet Eclipse EMEK 100 - best mechanical paintball gun | | 1.87 Lbs | beginner to intermediate | 4.5 ⭐ | |
| Azodin KP3.5 Kaos - Best pump paintball gun | | 2.7 Lbs | Intermediate to pro | 4.5 ⭐ | |
| First Strike Tiberius Arms T9.1 Base Marker - Best Paintball Sniper | | 3 Lbs | Intermediate to pro | 4.5 ⭐ | |
Our Top Picks
1. Tippmann A-5 (.68 calibre) – Best paintball gun ever under 300
A-5 is offered by Tippmann and is currently having the tag for the best paintball gun for the money. Not only comes with tons of options but also has a realistic-looking body with wide ranges of stocks, barrels, magazines, and grips. You can transform your A-5 into a menacing AK-47, tactical HK 417, or spec ops MP5-SD or whatever your favourite marker is.
A-5, one of the top paintball guns, is highly suitable for those who have an interest in woodsball and scenario play. You can also go for the mega set, which contains an A-5 maker, mask with an anti-fog lens, orange jerk squeegee, paintball harness, Co2 tank, black hopper, and clear paintball tube (20 Oz).
Imagine you are in the middle of a paintball battle and your marker suddenly stops working, well no worries A-5 can be field stripped in less than 60 secs without tools. That's why it is highly recommended for beginner and intermediate level players.
Some of the best features include the external switch that allows the player to switch between firing and safety mode. A Cyclone speed system can feed 15 balls per second without batteries. The sling mounts are more comfortable to remove, making it easier to add slings.
If you want to make your gameplay improve further this is the best paintball gun for you.
Pros
Affordable and easy to use
Easily transforms into your desired marker
Wide range of features
Wide range of stocks
Long-lasting credits goes to the die-cast aluminum body.
A-5 currently offers the best value for money and it is highly user friendly which makes it third most recommended
best paintball gun under 300
on our review list.
Planet eclipse Etha 2 is undoubtedly one of the hottest and top of the line paintball guns right now. The design is very steady, durable, sturdy, and full of useful features. The overall construction makes it tough for handling severe and harsh environments.
Whether may it be a rainy day with a muddy field or windy weather, it is designed to handle every type of environmental pressure. The external body is made with sophisticated materials with aircraft-grade aluminium exteriors, which makes it lightweight and also manageable.
A little more expensive than most of the markers, It provides double features, which makes it a champion.
It comes with an ultra-responsive trigger and a hoseless air transfer system to lower the possibility of leaks. It comes with 0.68 calibres with ultra-durable shells powered by Gamma core spool valve drivetrain and a high-pressure air power source. Also, they have an advanced bolt system and enhanced firing performance. You can also switch between firing modes (semi-auto, ramping, debounce, rate of fire) with a LED indicator.
It has a high level of accuracy, which leads you to hit your aim or target more effectively.
The minimal recoil also helps with a more accurate aim. It is also considered one of the best paintball markers
Pros
High Durability
Ultra Strong Parts
Best for Harsh weather
hoseless air transfer system
lightweight
Cons
slightly louder than other markers
Overall Etha 2 is an all in one package for paintball lovers, and with all of these top-notch qualities, it makes it a runner up on our review list.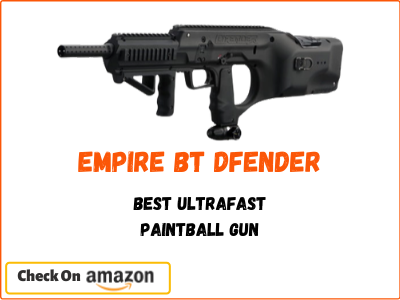 Paintball industry Genius, Empire paintball has innovated another high-end ultrafast paintball gun, the BT Dfender. For those who want smooth gameplay and an ultrafast paintball marker, this gun is just made for you. This genius design has moved the loader from the top and placed it within the stock, which not only looks cooler but also minimizes the chances get hit on the loader.
It has a self-calibrating loader speed sensor, tried, and tested Z2 loader performance with auto anti-jam. Constant feeding is guaranteed because the loader activates upon trigger pull. The fire rate is 20 bps with continuous loading—tool-less essential maintenance and battery change, and so much more.
The satisfaction level it provides is impressive, and it stands out from other markers due to its radical and out of the box design. Out of all the makers on our paintball gun reviews list, Bt Dfender tops them all. It's ultra-lightweight, which also makes it better to carry around during battle. The barrel is made out of aluminum, inline pressure controlled poppet feeder and has break beam eyes.
These were some of the great features that made this paintball pro beast machine stand out from other rivals.
Price is a little bit higher, but the value it provides justifies the price.
Pros
Ultra-lightweight
Ultrafast
Endless relevant features
Bottom loader
Most accurate paintball gun
Cons
Less affordable for some people
If you are thinking about upgrading your marker, then this should be the the first and foremost choice for paintball players.
TMC MAGFED from Tippmann, the best paintball gun brand, is yet another best high performing paintball marker. It's 0.68 calibers most mil-sim style high-end tactical markers on the field. However, this gun doesn't come with electrical components, which means that it only has a semi-auto firing mode. However, it is capable of outshooting and outlasting with more durability and long-lasting.
The main parts are made up of steel such as frame, the trigger assembly, inner gears, and the bolt. A high-grade polymer is used for other parts as well. Not only makes it durable and robust, but it also maintains its reliability and consistency up to the mark.
As for the features, it includes Front and Rear Adjustable Sights with Built-in Picatinny Rails. 0.68 calibers. You can also adjust the Fps rate from 250-325, 2 magazines (20 rounds each).
It also comes with Tippmann with a 1-year manufacturer's warranty and Tippmann's technical support department availability all year long, which is a cherry on the top.
For better accuracy, you can change to a freak barrel kit for this marker. 
Pros
Solid metal construction
Long-lasting and durable
Uses a high grade polymer
Low maintenance
Have a realistic look
Cons
Charging handle is not robust.
Packaged versions are also available with more things you may need, including an anti-fog mask, hopper, round pods, and harness. 
Tippmann Cronus Basic is the most affordable and best paintball gun for the money on our review list. We also think that it's the best paintball gun for beginners as it is very basic yet exquisite.
By adding around $90, you can also get the Mega set, which contains a CO2 tank, anti-fog paintball mask, harness, round gravity fed loader, and round paintball pods.
It is surprisingly very lightweight, having a very rigid composite build, which not only makes it long-lasting but also making it easier to handle for beginners.
The built quality is tremendous and can withstand the tough weather and harsh environments.
Pros
Lightweight
High Durability
Affordable
High fire rate
Best for beginners
Cons
Hopper lid is less robust.
Overall the body, accuracy, performance, and durability is up to the mark as compared to other rival markers. As a beginner, you should go for it.
6. Tippmann 98 Platinum – one of Best Beginner Paintball Guns
Tippmann 98 platinum is yet another beginner paintball marker with affordability. Which also comes in the combination of different gear items in a packaged version.
It contains a CO2 tank (20 oz), mask with visor and anti-fog lens, the black hopper, the deluxe paintball harness, 1 oz gold cup oil, and 21 inches orange jerk squeegee.
Tippmann 98 is a semi-auto paintball gun and is very user friendly mainly for beginners. It also has a reliable performance with high-end engineering, which allows it to perform in the toughest of the weather. A sturdy metal is used that enables a firm grip and better handling than other rivals.
The split receiver design provides fast access to internal components for installation for upgrades and tweaks in modification. Picatinny rail at the top of the Gun makes it user friendly to add a carry handle, scopes, and other changes.
It is made with a more durable all-aluminum die-cast receiver with a matte black finish that resists any impact and wear, which makes it long-lasting.
The Tippmann 98 platinum is a class in itself and is one of the good paintball guns in the world.
Pros
Durable in tough scenarios
Easy to customize
Best for beginner
Affordable
High performance
Cons
Slightly less accurate ( can be improved )
 The Tippmann Cronus and Tippmann 98 Platinum are both some of the cheap paintball guns.
By far the Tippmann US Army Project Salvo is the most realistic looking gun. This is the Gun that every beginner and an intermediate player should be looking for.
It also comes with a mega package version like other beginner paintball guns.
The package includes Tippmann US Army Project Salvo gun itself, anti-fog mask, CO2 tank, gravity-fed hopper, paintball pods, paintball harness, and so much more. This is one of the cool paintball guns and also comes at an affordable price. Apart from the features, the realistic look itself is worth the money.
The primary materials which are used are stainless steel and aluminum. Both of them provide more durability, which provides not only a long life but also stable range shots. The accuracy is also up to the mark; however, there is always room for more perfection. You can customize it as you want.
The reinstalling is very easy, and in addition, it also has a quick-release feeder elbow to disassemble for periodic maintenance and cleaning. Has four Picatinny rails for customization, have a high performance 11 inches thread barrel. Removable and adjustable front and rear sights with an ultra performing inline bolt system.
it was fascinating for us to write a review on this realistic looking gun.
It was fascinating for us to write a review on this realistic looking gun.
Pros
Looks Realistic and Cool
Good accuracy
Highly Durable
Firm Grip
Delivers smooth and accurate shots
This gun has so much more to it which totally makes sense because it was originally created on real military simulations.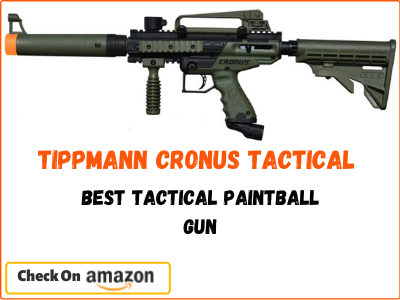 As the name suggests, it is the tactical version of Tippmann Cronus. Having more accuracy than the other version makes it more useful and awesome for beginners and intermediate level players.
Just like other markers, it also has a mega package version, which is a real value for money. Set includes a mask with anti-fog lens and visor, CO2 tank equipped with a valve, a black hopper, a paintball harness, and heavy-duty paintball clear tubes.
As a tactical version, it delivers more performance and durability. It is made with high impact composites, which makes it robust and gives it a fresh look. It comes in 2 colors, olive and black, with a price difference of $20.
Reliability is much appreciated for this gun, as it makes it more accurate and gives you more chances of hitting your target effectively. Moreover, It is easily customizable and also includes a red dot and grip.
It is also lightweight, which makes it beginner-friendly.
Pros
Lightweight
High accuracy
Resembles M-16
Highly customizable
Low maintenance
Overall this gun is the best choice in its category.
9. Empire Mini GS – one of High-end Paintball Guns
Empire always does a pretty good job in making their marker perfect, and Mini GS is another one of the best High-end paintball Guns ever. It's a prevalent one and offers so many features.
If you genuinely wish to upgrade your marker or buy one of the new paintball guns, this one is the best choice.
Made for speedball, but don't underestimate it as it can perform much better in harsh environments and can work for any type of paintball battle.
The HPA tank comes with an on/off ASA switch for degassing. It allows ease in tank removal, which prevents any kind of damage to O-rings of the gun. It also allows the drop-in of the Redline OLED board without switching to the foregrip.
For extra durability and performance, the ASA and foregrip attachment points have been leveled up. The style is so simple but yet so elegant. It is also very reliable, easy to hold due to its rubbery grip. The trigger is a self lubricant and allows less friction during a battle.
Some bigger and taller players might have a problem due to the smaller size of this marker.
Pros
Affordable and accurate
Can be used in different gameplays
Comfy grip and handle
Self lubricant trigger
High performance
Overall, this marker provides much better features, performance, and durability than other expensive markers.
In this era, where electronic markers are making their way to the top, mechanical markers are also popular in the market. However, EMEK 100 made its way in our best paintball guns list.
It is made out of single piece composite material with an aluminium interior for smooth shots. Moreover, Have fun right away with this marker, and just go out on the gameplay field.
This one is also best for beginner and intermediate level players who don't want to be in much confusion. It was made to be essential and straightforward. The gamma core drivetrain makes sure to provide shot after shot during a battle and run smoothly.
There is nothing to mess with just a gamma core and a pneumatic self-timed firing system that can shoot all day long. Don't you worry about any maintenance due to low operating pressure and deftek feed.
It was designed with an intent to give players a better experience rather than worrying about the marker, which is a great feature. It's a highly durable long-lasting gun which makes it unstoppable in surviving in any type of battle.
The basic construction of EMEK is based on Etha 2, and to keep it low cost, and composite material is being used.
Pros
GRN construction
Easy to clean and low maintenance
Leading gamma core bolt system
No batteries needed
Tool-less grip removal.
So if you are just starting in this game, you should also consider this mechanical marker.
11. Azodin KP3.5 Kaos – one of Best pump paintball guns
If you are an enthusiast of a pump paintball gun, Azodin KP3.5 Kaos is the one you should go for. Let me explain why.
It comes with a 14 inches two-piece barrel with two backs .685 and .681. Has dual pumping rods, on/off ASA, clamping feedneck, and derlin pump handle, which does not want any greasing.
It has zero internal assembly and acoustic bolt that lowers the operating pressure to 230 psi, which makes it quieter. Rather than A5 barrel thread, it uses an AC barrel thread. It's extra lightweight and pretty much simple to use, which makes it one of the best paintball guns.
Too much greasing can cause swelling, so avoid it.
Pros
Two piece barrel
Durable
Lightweight
Single trigger frame
Very quiet
Cons
Greasing can cause swelling
You won't regret buying this gun.
This Gun can easily be modified and upgraded. Tiberius Arms T9.1 can be made into a sniper rifle and then used for long-distance shots. This gun has much to offer and can be tailored according to personal preference. 
This gun is compactly designed and has a 14-inch barrel. It is supported by both mag-fed and hopper-fed systems. The sniper works well with both of them. It has a great level of accuracy when it comes to shooting distant shots. 
It is highly recommended if you are looking for a first strike paintball marker. Another great feature is that it has an arrow dynamic smart design. This is suitable for players who are interested in shooting at long distances.
This marker is capable of shooting both first-strike rounds and .68 caliber rounds accurately. Its magazine enables the player to keep the tank in place. 
You can also attach a larger air tank with this sniper.
Pros
Compact design.

Can be customized easily.

Both mag-fed and hopper-fed systems.

It is sold with a hardshell case so that it can be carried conveniently and safely. 
Cons
Maintenance is relatively difficult than other guns. 
Buyer's Guide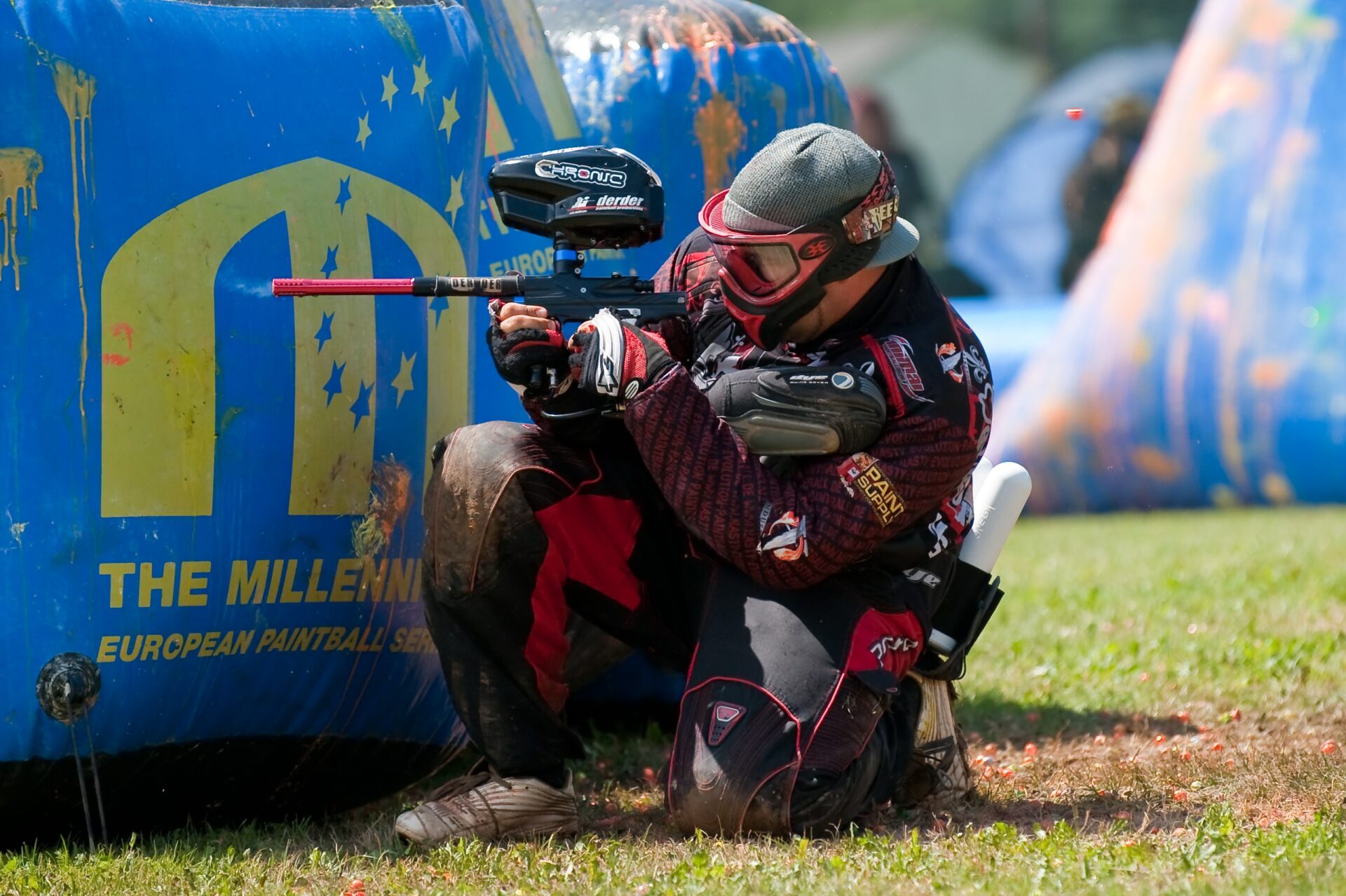 Considerations before buying best paintball guns
Anyone unfamiliar with paintball markers might think that selecting a marker is an easy thing to do, but buying a marker can be difficult. But don't worry as we are going to discuss it in detail and make you able to select the marker you should be buying for yourself.
How often do you play paintball
This is the most critical question to ask because it tells about how much time you are spending on this game. If you play once in a while at a park, any gun can facilitate you in this case.
But if you are going to take part in competitive gameplays around the world, you have to invest in better guns, equipment, and gear. It cost you hundreds of dollars, even thousands, but if you are planning to excel in this game, it is going to be worth it.
Style and comfort
When you go out on the field of competitive battle, you will have to stay there for hours, and the marker you carry is going to matter a lot in terms of style and comfort. It should have an appropriate size and delivers comfort while shooting hundreds of paintballs accurately.
Warranty
For the cheap ones, you should worry about the warranty as almost all of them have a 1-year warranty.
But if you are planning to invest hundreds of dollars, then you have to make sure that the company is providing an excellent and reliable warranty. This is why we have handpicked top paintball markers that are backed by top paintball brands.
weight
Playing all day long with a heavy marker is not a smart thing to do. A lightweight marker plays a useful role during battles. Modern markers can weigh as low as 2 pounds while other fancy markers can go up to 5 pounds.
Efficiency
Your marker needs to be efficient as it plays a vital role during gameplay. However, efficiency can always be improved by tuning your marker to consume less air for a shot.
This allows you to make more shots per tank, and shots can go up to 900+ per game, so it's better to use less air.
Durability
While choosing your marker, you have to go for the durable one for the severe and harsh gameplays. Some battles take place in very muddy and harsh fields. In this case, the only choice you have is to go for the durable marker.
However, the best practices are to make sure your marker has proper oiling and greasing for durability. Always clean it internally and externally after muddy or nasty gameplay.
Where to buy
Another critical thing to consider is the place where you buy a marker. You don't want to end up buying from a place where things are not as they are promised.
Before buying any marker or gear, you should read detailed reviews and do detailed research about that specific product and then go to any conclusion. As all of the paintball markers are durable and long-lasting, you should think wisely before buying any marker, may it be paintball guns, paintball pistols, paintball markers, or dye paintball guns.
Types of paintball guns
It's a matter of choice whether you want to go with mechanical, electronic, or pump, all have distinct qualities. An electronic marker uses circuit boards and batteries, whereas mechanical ones operate without electricity. Pumps are manual types, also known as an open class.
Mechanical
Mechanical markers are famous for their reliability, but they make more noise than the electronic type. They also tend to operate slower than the electronic marker.
Electronic
Whereas there are two options in electronic, electro-pneumatic, and electro-mechanical.
Electro-mechanical
The electromechanical features use an electronic trigger frame that works while firing the gun. However, you can select between two modes, full auto mode or 3 round burst.
Electro-pneumatic
The electro-pneumatic is a more advanced version that comes with a solenoid valve that has to be activated to shoot. Air passes through the valve, which then creates pressure and allows the ball to flow out of the barrel.
Moreover, balls come out more consistently and also makes less noise than the mechanical version, which benefits the player during battle. But it is more expensive than the mechanical one and needs more maintenance and fixing.
Pump
This is the manual type of paintball gun. Pump markers were the only markers available in the market when paintball first started, They are not any better than other markers and are not even popular among players as they are getting obsolete.
You don't want to bring these to any competitive gameplay as they are very slow in fire rate.
Different types of paintball gameplays
You must choose a compatible marker for gameplay as there are different types of gameplays having different natures.
Woodsball or scenario games
Your adrenaline can rush high during a woodsball game as it involves lots of shooting, running, sneaking, crouching, and hiding. It can be played in different terrains, and anything can happen, so be sure you are prepared.
Scenario games are more focused on storylines, and it involves certain types of challenges, missions, and strategies. It consists of two teams followed by commands.
In both games, You have to carry a marker which has to be customizable and can be carried around like a rifle. Tippmann US army project salvo or Tippmann Cronus tactical are an example of such type of gameplays.
Size doesn't matter in such battles. You should focus more on performance and durability and also the comfort of the marker as it has to be easy to carry around. Do go for the fancy or shiny paintball guns.
Speedball
It is also called airball and usually takes place in an open field. The field is filled with air-inflated blockhouses in a specific layout because of fast-paced gameplay as both of the teams are in a real hurry to dominate the rival team.
In this type of gameplay, you should go for the shinier and fancy type of electronic markers. They should be smaller in size and lighter to carry around. Planet eclipse etha two and Tippmann A-5 are the perfect markers for this type of game.
Significant components of Paintball gun
While buying a paintball gun, you should also make yourself familiar with the major components. We are going to discuss some of them here.
Marker Body
The body plays an important part and is the most substantial part that makes up a marker. You can attach and detach different components from the body as it allows you to customize the marker to your liking. By adding some components to the body, an ordinary-looking gun can be transformed into one of the best paintball guns.
Aluminum is commonly used to make the body as it is more durable and lightweight. Different colors are used to make it more appealing for players as everyone has their taste.
External Design
The trigger and barrel are the significant components that make up the external design. The trigger placement for the expensive ones is towards the center of the marker, which makes it balanced and allows smooth gameplay, especially for speedball.
Such placement also allows you to place your HPA tank at a specific position, which makes it more compact rather than applying any type of customization.
Bolt and valve assembly
It is another external component of the marker's body. It's a type of mechanism which works when you pull the trigger; in simple words, it works when the markers fire. The valve is the mechanical switch that controls the ability of gunfire, and it controls the ability of the market whether is it going to fire or not
Whereas the bolt makes sure the presence of the ball while releasing the airflow to the marker's chamber. Modern markers have two types of bolts, open bolt design, and closed bolt design.
Most of them use an open bolt design, which is positioned at the back, which connects the firing chamber with the loader. The closed bolt design markers are more accurate than open bolts.
Barrels
Barrel plays a crucial role in accuracy, speed, and range. If you want to make your marker more accurate, then you must change your barrel. Various types of barrels have been made over the years by paintball brands such as long barrels, carbon fiber barrels, curved barrels, two-piece barrels, rifled barrels, and the list goes on.
The freak barrel is One of the famous barrels that revolutionized this industry. With an exact matched size of balls, this barrel can do wonders for you.
If a paintball is smaller than the diameter of the barrel, you might miss your target by miles. If a paintball is larger than the diameter of the barrel, in this case, balls break inside the barrel. They also lose their accuracy, so it is crucial to choose the perfect-sized ball following your barrel diameter.
Even a thousandth of an inch matters a lot. Now the solution for this is a modular barrel system like the freak barrel. As we told you earlier, the freak barrel is a revolutionary barrel that changed the course of paintball games to higher levels of accuracy.
Paintball propellant types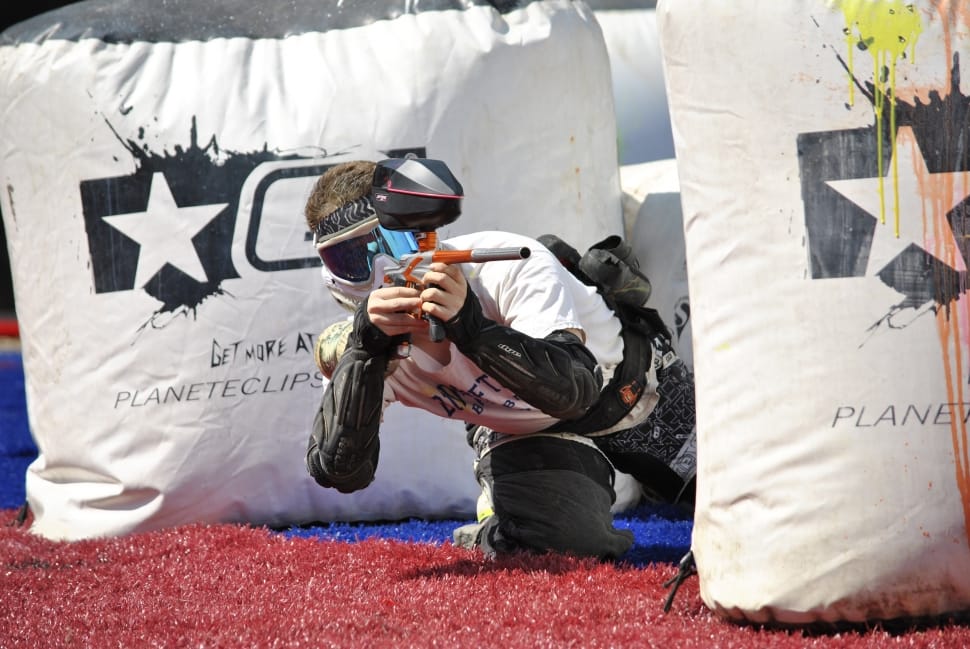 CO2
Carbon dioxide was once considered the best propellant for paintballs, but today most high end and electronic markers are not even compatible with CO2.
But still, some markers rely on CO2 as the only source for pressure. Some magfed markers and stock class pumps are the examples which still use CO2.
Nitrogen
As CO2 became obsolete by the passage of time, nitrogen gas was used for a little while as it treated the marker gently and had a more accurate shot. But unfortunately, it was expensive as compared to the current propellant known as HPA high-pressure Air.
HPA
High-pressure air is responsible for replacing nitrogen. As it was cheap and availability was infinite. It is now used in 95% of the games.
There are two types of variants in HPA tanks, 3000 psi and 4500 psi. it can be categorized further by their internal volume.
3000 psi + 45 cubic inches = 30/45
4500 psi + 90 cubic inches = 45/90
45/45 or 45/50 are mostly used as propellant pressure for markers around the globe.
 Other types of equipment needed for paintball games
The paintball gun is not the lone thing you need for battles; there are many more investments you have to make. They are also necessary for you if you want to play in battles to ensure you more effectiveness and safety. The items are as follows.
Mask
Paintballs can leave deep marks on your body and hurts, and if it hits you on your face or eyes, you can even go blind. That's why facemask is an essential piece of equipment in battles. You also have to ensure that the mask you are buying is paintball approved as there are low-quality masks available too in the market.
You can learn more about the best paintball mask for a detailed review.
Paintballs
If there are no paintballs, there is no game. They are the primary and most crucial component of the games. They come in different colors and sizes. There is a wide range to choose from, but the expensive ones are considered to be the best.
But as a beginner, you might be worried that which type performs better? Don't worry; you can always read about the best paintballs reviews and choose the best one of them.
Hoppers
Also known as loaders, some markers have magazines to hold the
paintball and some have loaders that are usually mounted at the top of the marker.
However, the loader contains more balls than magazines. Some of the hopper types are the agitating, the gravity feed, the stick feed, and force-feed hopper.
There is a wide range of the best paintball hoppers to choose from.
Air tank
To fill in the propellant, you need an air tank, which is another crucial part of the marker. In order to shoot paint, the marker needs to make enough pressure to make the paint reach the target. Air tanks and compressed air make it possible together.
You should always go for the bigger tanks as it contains more gas and can shoot hundreds of balls in one fill. You can always select the best paintball tanks from our review list.
Pods and pod packs
Pods and pod packs contain paintballs to refill your hopper during tournaments. The plastic container is filled with paintballs that ensures the supply of the paintballs during competitive gameplays. After all, you don't want to sit down and put balls in the loader one by one.
It comes in different sizes; the biggest of them contain up to 140 rounds, which is usually used by the pro players in battles. Always invest in the best paintball pods for your ease.
Knee and elbow pads
Paintball games involve running, crawling, jumping, and hiding, and for that reason, you also need knee and elbow pads as they not only provide safety but also keep you comfortable throughout the game.
The best knee and elbow pads are made from gel and are soft. You can wear them underneath your pants and jersey.
Gloves
It also provides you safety; there are more chances to get hit on your hands and finger and believe me, it hurts a lot. So, to keep your hands safe and have a firm grip on your marker, you should always opt for the best paintball gloves.
Paintball jerseys and pants
Most of the paints and jerseys have built-in padding and safety; not only it looks cools but also protects you from the hit of the paintball. You should also consider it as an investment for your protection.
Cleats and shoes
For better grip on the field and ultra-level of traction, opt for the best cleats and shoes for paintball games. Paintball games involve tripping, wrong-footing, and sliding, and the only way to ensure your protection is to choose the best shoes.
Gear bags
To store all of your gear, equipment, and paintball markers, you need a gear bag that comes very handy in organizing your things. You should choose the best paintball gear bag which has different compartments for different equipment as it will make it easy for you to organize and find your valuable equipment.
Also, make sure the bag is lightweight and durable.
Tips to improve your game
Don't show your face from the same place twice while in cover, change your place back and forth.
Keep your eyes open and Stay sharp for any change in the environment, which lets you know about different places and covers.
Make sure you are moving and changing your place frequently, which allows you to have a better position over your enemy.
Stop hanging around in one place. Always move with stealth. Get behind your enemy and knock him out
Keep your enemy busy with your shooting even if it doesn't hit them, it keeps them from taking advantage over you. This also works if you want to cover one of your teammates, which gives you more chances to win the game.
Stay with the herd. Don't get separated from your teammate. Remember, this only makes you an easy target.
Best Brands for paintball guns
As there are many best paintball gun brands in the market, the best among them is as follows.
Tippmann (Best Beginner and intermediate level Paintball guns)
Tippmann is a well known and one of the best paintball gun brands. They have a vast number of varieties to choose from, which makes it easy for the player to choose different guns while staying under the roof of Tippmann. Usually, they make guns for entry-level players in low price
Empire (Best paintball guns)
Empire, on the other hand, also makes beginner level and high-end quality paintball guns. Also, they have a wide range of accessories as well.
Dye (High-end Paintball guns)
Some of the best paintball guns come under the name of Dye. From entry-level to the top-notch tournament level makers, they make it all.
Planet eclipse ( High-end markers)
They are known for their electronic and high-end markers. Although they are new in the industry, they have made rapid growth in a short period.
FAQs about Best paintball guns
Q1: what's the most accurate paintball gun?
Ans:
If you have the right amount of budget, then I recommend you
Empire BT dfender
, or if you have a budget under 300, then
Tippmann A-5
is the best choice.
Q2: What psi do paintball guns use?
Ans:
Modern markers use HPA (high-pressure Air) in tanks ranging from 3000 to 4500 Psi.
Q3: how much is a paintball gun?
Ans:
It depends on your budget. But the Tippmann A-5 is the best gun under 300.
Q4: How long does paintball guns last?
Ans:
As long as you keep it well-greased, clean, and maintained, they last longer than your expectations.
Q5: Does it hurt getting hit by a paintball?
Ans:
If you are not in proper clothing, it hurts a lot if you get hit by a ball from a close distance. That's why it is always recommended to wear suggested pants, jerseys, and masks.
Q6: what is the best paintball gun 2021?
Ans:
Q7: Where is paintball most popular?
Ans:
Top 5 most popular venues for paintball games.
1: Skirmish USA
2: Hollywood sports California
3: CPX Chicago
4: Hotshots Paintball, Australia
5: Asylum paintball, New Zealand
Q8: where to buy paintball guns?
Ans:
The best place to buy guns is Amazon. It has a huge variety of the best paintball guns.
Q9: How far does a paintball gun shoot?
Ans:
the range may vary, but on average, a paintball gun can go 80 – 100 feet far.
Q10: What is the best paintball gun?
Ans:
Conclusion
After going through this much detailed review, you should not have a problem with choosing the best paintball gun for yourself. focus on your likings and go for the gun you want to have and Don't get overwhelmed
You will get better over time when it comes to skills. In the beginning, you might think that this is not my cup of tea, but it will get easier and make you a pro in a short period of time if you put time and effort with the right type of marker and gear.
No one has learned anything in the womb of their mother. Go out in the field and knock yourself down for quite some time but remember to stand up again and again.
Passion is also something to follow if you are passionate about this game, and you want to start eagerly, then go for it; nothing is stopping you from achieving your goals. We have given you the best choices of the pro player, and now it's up to your likings that which gun attracts you the most. Always remember every gun has pros and cons, but what matters the most is your own choice.
Recommended Articles
Best paintball guns for beginners.
Best paintball guns under 300.
How much does paintball gun cost?