Are you looking for a proper review of your favourite paintball masks? If so, I will be able to provide detailed information about Empire Helix masks and their features. 
It's common for paintball players to be anxious about masks fogging up when used for too long. Paintballers who aren't new to the sport have likely encountered masks fogging up at least once. The fog covers the lens of the masks, making it difficult for you to see places.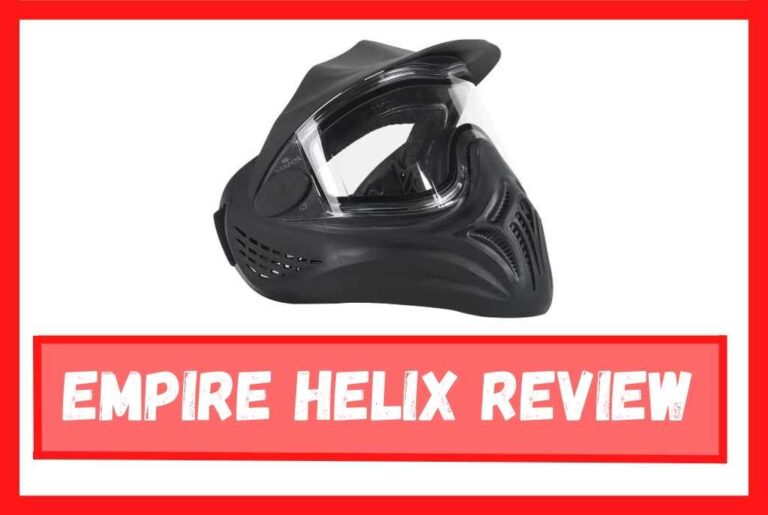 One of the few things a person can do in this situation is simply be laid back and wait for the fog to clear. Blowing your breath through the bottom of your mask and wearing a scarf to absorb sweat may help eliminate the fog, but neither of these methods is sufficient.
Despite the lack of fancy features found on other paintball masks, the Helix will at least allow you to see clearly through various things, allowing you to move ahead during the battle.
We have written an Empire Helix Review to help you learn more about it.
Empire Helix has the following Price
Empire Helix Review
Empire Paintball Helix Thermal Lens Goggle
Specifications:
Clear dual-pane thermal lens
Easy lens changeability
There are many paintball masks out there that come with a thermal lens which can be found for only about $5 more than the cost of the lens itself. This means you get an entire mask for just $5.
Some people do not think it is good to buy less expensive products that won't last long; however, Empire Helix offers quality at a low price.
It's no longer Foggy
The rest of the affordable masks have an inferior lens to the one on the Empire Helix. How is this possible? There is a significant difference between a beginner paintball goggle and a Helix goggle, which uses a dual-pane, or thermal, lens, which is much less likely to fog up since the two lenses have the same coating.
As much as fog resistance is concerned with thermal lenses, all it takes is the addition of a second (much thinner) lens behind the outer protective lens to make them all more resistant to fog. Using a foam gasket to separate the two lenses, you can keep a thin layer of air between them, allowing the air to circulate freely between them. As a result of this thin layer of air, the temperature between the two lenses does not fluctuate as much as it would between the two lenses without the thin layer of air. If it's a hot, humid day, your lens will not fog.
Also Read: VForce Profiler Review PaintBall Mask
Compared to a double-pane lens, condensation will occur almost immediately as soon as the heat and humidity inside your mask contact the cooler temperature of the lens. Anti-fog sprays can calm the problem, but they aren't nearly as effective as dual-pane lenses.
In my opinion, this Empire lens is one of the great things about it since it's practically fog proof. Also, it will increase your peripheral vision and field of vision. It will seem like a HUGE difference when you finally put on these when you're used to a mask with a much smaller lens.
You can use this to protect yourself
Paintball masks are not only about the lens but also about the mask itself. The face will usually be exposed with many low-budget masks, so you might get a paintball in the lower jaw or ear if you're wearing them. Some people with larger heads find it difficult to find any masks that fit properly, but it won't be a bigger problem if you have a large head. However, I have seen people who say even Empire masks do not have the required size according to their head. 
Goggle strap
Another important feature to consider is the goggle strap on a paintball mask. A goggle strap allows you to keep the mask on your face at all times. You probably know from experience how loose the strap is on the back of your head when you have ever used one of those cheap paintball masks included in a beginner's package. Therefore, we recommend buying expensive masks since they are geared with high-quality materials, resulting in great and durable products. 
Backstraps
Thanks to the well-made backstrap on the Empire Helix, you do not have to worry about it slipping around. It is also equipped with a removable chin strap, another safety feature. The removable visor and hard plastic body of this mask make it a valuable piece of personal protection. Furthermore, despite its hard plastic body, the helmet offers excellent protection against abrasions.
Wearing glasses with this mask is comfortable
Have you grown tired of wearing a paintball mask just to have your glasses adhere to your head as you play? You will feel extra comfortable when wearing these masks, unlike others that make people feel like a burden on their faces. It's a good thing the foam on the Empire Helix is divided into two parts to leave a slot for the frame of your glasses to fit into. Additionally, even the thickest frames can be comfortably inserted behind the lens. 
This thermal lens consists of two clear panes
The visor can be removed for cleaning
A padded chin strap is removable and repositionable
Double-density foam (DDF)
Goggle strap featuring silicone beads and a woven fabric construction
Changing a lens does not require the use of tools or the assistance of an expert.
In closing, we would like to thank you for taking the time to read our review of the empire helix mask, and we hope the information we provided was helpful to you. Having the advantage of not allowing fog to enter the mask, I consider it to be the best mask on the market. 
Honestly, I don't think that you need to look anywhere else because I think Helix masks from Empire are a perfect option for you. 
Feel free to take your time and make the right choice for you. I promise that it won't disappoint you with the above mentioned feature it offers.