Technologically advanced and leveled up version of E.M is out in the market with the name Empire Mini GS. The latest, sleek version of the old E.M. has taken the market by the masses for its upgraded empire technology.
With improved rubber gripped skin, the new Mini G.S. features on/off ASA, and along with its lightweight, it is one of the most in-demand paintball markers by kids. 
The smart-sized Mini GS has earned a reasonable place amongst kids. However, some paintball enthusiast dads might end up disappointed for their limited utility with their adult hands. In any case, the new EMGS addition has got its due attention in the paintball guys club.
Key Features of Empire Mini GS
Specifications:
Its body is covered with rubber.
ASA on and off.
Its PSI is between180 to 200.
Fasten feed neck.
Its barrel size is 12 inches.
Least eyes on the inside
Shelling speed is 23 balls per second.
Its weight is about 1 pound and
Pros
Mini G.S. is a refined and rectified version of the old empire mini.
Precision accuracy
Balanced and Feather-light marker
Quick action shooting with no to very little recoil
ASA ON/OFF switch
Rubber skin grip
Air efficiency enabled
Electronic micro-switch trigger
Firing action and speed regulator
Cons
User needs to train to flip the ASA switch smoothly
Only Online user-manual is available.
Strong hands might not be able to use the marker efficiently.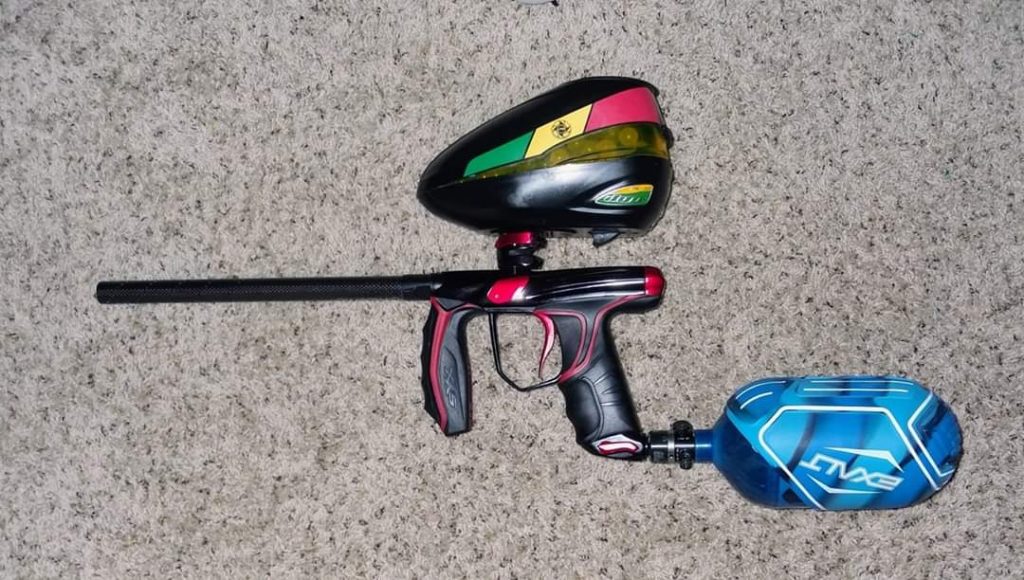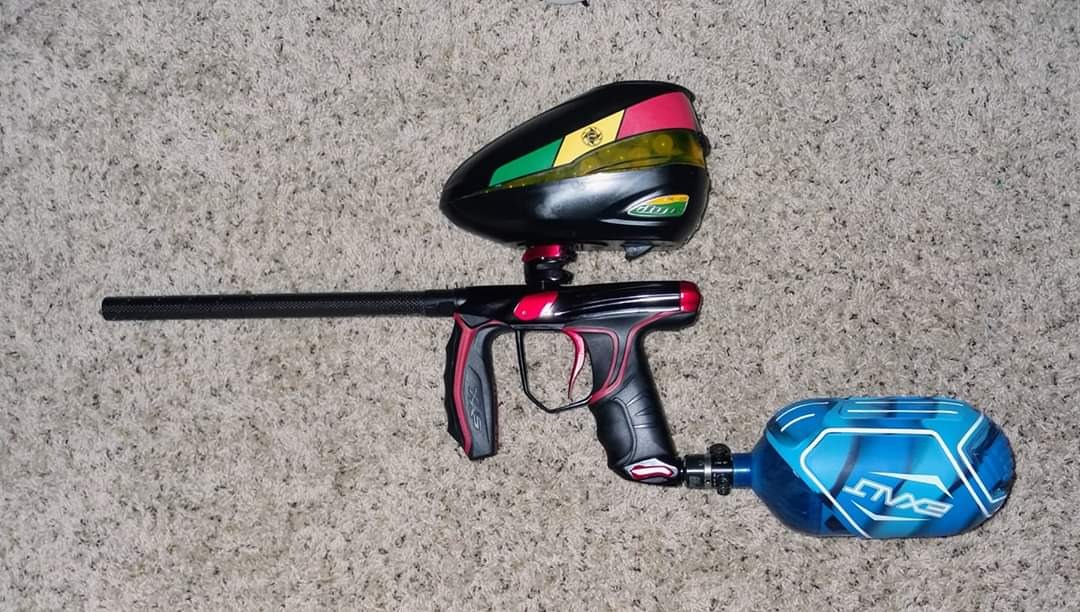 This paintball marker's name translates into its handy, very smart, and sleek design. Talking about the overall looks, it is not wrong to say the gun is a refined version of the previous model empire mini.
The elevated G.S. version of empire mini has outgrown success compared to its competitors in the paintball guns industry. Their research and development team of Technology Empire has closely scrutinized customers reviews about the previous version.
Their hard work is reflected in the all-new mini GS Starting with comfortable anti-slip improved grip, and there are many arguable improvements and upgrades that this model features.
This marker comes with an On/ off ASA feature for seamless removal of tank and thread issues. Additionally, in extension to the ad mentioned above on EM GS comes with an easy drop-in to facilitate its redline OLED board.
Unlike previous versions, the shooter does not have to switch for grip anymore. Living up to its name, empire does not compromise its quality and specializes in making all-type game speedball and paintball markers. Here's a detailed look at EM GS.
Once you have got your hands on your own mini G.S., what can stop you from unboxing it and trying your hand on it? Empire technology and experts claim it spits about 275 fires per second in its initial days as it warms up.
After minimal running, the G.S. model can spit up to 293 shots per second. You can very easily control and regulate the firing speed with the help of an Allen wrench.
Not to mention, this model features mind-boggling 45/4500 HPA that can easily facilitate you 100,000 paintball shots before needing a top-up. There's no need to worry about recoil anymore because you won't be running out of gas during the battle hour.
The quality of the marker is evident by its noise and sound-free, smooth firing. This paintball marker is remarkably silent, and it let you enjoy a focused battle in a colored war zone.
The versatile and accommodating mini G.S. is as handy for a left-handed user as a right-handed user.
Not surprisingly, few complaints about leaking HPA tanks, sub-normal FPS, or inadequate quality of Mini G.S. However, unlucky users mostly got their refunds and exchanges from the dealerships.
I recommend you to check your mini gs comprehensively and always buy from an authentic online platform that guarantees customer satisfaction and easy refunds/ exchanges.
Lightweight and rapid-fire, the Empire Mini GS ensures precision and a smooth paintball marker experience. It weighs about mere 1.2 lbs. It is hardly any other gun that matches such quality in this weight category.
For users who prefer to feel the weight of a weapon with an intense finished look, this might be an unpleasant experience, but if you are looking for something elegant yet deadly, Mini G.S. should be on top of your choice list. 
The rubber skin and grip compensates for its sleek design and instills a confident durable feel in the user. Moreover, the rubber skin provides a reliable, firm grip that adds to its long-lasting usability in slippery hands.
This new electronic model is equipped with BBE (break beam eyes). It transmits and receives an electronic infrared beam. Operationalized by G.S. 's electronic circuit board, the latest mechanism diminishes any chances of chopped paintball. 
The all-new Mini G.S. fancies a unique micro-switch trigger; these innovative features train the user to master the skill of every pain kill they make and every aim missed.
Experienced players who might have used Axe or Axe pro must be familiar with this feature and easily relate to its usability and effectiveness during the paintball war on the battlefield. The trigger can easily be regulated as per tournament rules and consists of mill-sim and PSP setups.
The latest fantastic improvement in the mini G.S. is easy and quick removal of the tank. This helps you quickly remove and mount back the tank once refilled. It works like other high-end products but at a cheaper price range.
This paintball market comes with a relatively low clamped feed neck, and it helps you sneak through corners and holes easily. Similar to an empire axe, the carbon fiber version. This feature is one of the fundamental reasons that make this an exceptional paintball market and battlefield-friendly.
To ensure the accuracy, performance, and life of any paintball marker, periodic maintenance is necessary. Dismantling the G.S. marker requires experienced hands and skills. It is suggested to study and learn the cleaning process through tutorials and users' guides before trying it yourself.
It is better to have it cleaned by an experienced individual to achieve better results. Handling small and tiny screws and bolts requires steady hands and 20/20 eyesight. Additionally, greasing the correct parts may also affect the performance and results. Thus training is recommended.
Empire technology is one the top companies to manufacture paintball markers, and Empire mini lives up to the company standards. To conclude the review based on the features above and facts, this is a paintball marker of choice, and it may vary from user to user.
This is a perfect fit for young kids and those looking for a sleek and lightweight marker. The Empire Mini GS is durable, reliable, proficient, and accurate for its lightweight built. If you are have experienced other markers from empire, you will enjoy this paintball marker.
The decent price tag of this gun is an absolute steal. There are hardly any paintball guns that come closer to the EM GS at this price point.
This gun is highly recommended for beginners and those who want a gun for practice. This gun is at an affordable price. We hardly see any gun that looks like this one. It means it has its unique standing in the market.