How to fill a Paintball tank is the crucial topic in to be discussed in Paintball Game. If you are a regular player or most probably played every weekend, then you need to refill your paintball tank most often.
After some shoot, the paintball pressure is getting low; it is because of less co2 or compressed air. Therefore you need to fill a paintball tank again to enjoy the same thrill. 
For that purpose most frequently asked question is how to fill a paintball tank? Is it possible to fill it at home or you needed to visit any sports stores or special refilling paintball tanks shop?
The best choice is to visit the sporting goods store or a paintball shop, which have the proper equipment for filling your co2 tank and compressed air tank. They can fill a paintball tank in just a few dollars per 1000 PSI.
You can avail alternative options which are scuba welding or fire extinguisher shop and asking them to use their co2 tanks. If you are still looking for some other option then you can buy a scuba tank and refill it at your home.
Wait a minute, dear players just read out our article if you think about refilling your paintball tanks from the local stores and hopping for the best result. It would help if you considered what is air tank and how does it work.
Let us start discussing some basic information about refilling paintball tanks.
The Best Places to fill your co2 Tanks
Following are few suggestions for the player to know the spots from where they can fill a paintball tank. Check out your most suited option below: 
Paintball Stores and Fields
The popular size of co2 bottle is 9 to 24 ounces of a paintball gun. The best location to fill a paintball tank is a paintball store or paintball field. They stored co2 refiles and have other proper gadgets to fill sufficiently without overfilling your tank.
Sporting Goods Stores
There are many sporting goods stores that fill a paintball tank in your city and nationwide. You might find these stores at your nearby location, and they do their job very good while refilling.
If you are getting assistance from inexperience, make sure he will not overfill your tank. There are many chances of the blast.
Many sporting goods stores offer you a small pre-filled case used as a backup for a paintball gun while you are playing. You can find these small cases from the bicycle shop as they use it to refill tires gas.
Filling Tanks at Home
If you play regularly, you must need a lot more time refills. So it is more appreciated to you to have your own large tank at home and its equipment to fill small tanks.
This might cost you currently, but it must be worth it in the long run. It even saves your money from refilling after every few days or games.
Tank Exchange
Few stores offer the exchange program. It means you give them an empty bottle and in return, they will give you a pre-filled bottle. Nut this option is slightly more expensive as compare to others.
The Best Places to fill your Compressed Air Tank
Following are few suggestions for the player to know the spots from where they can fill a paintball tank. Check out your most suited option below: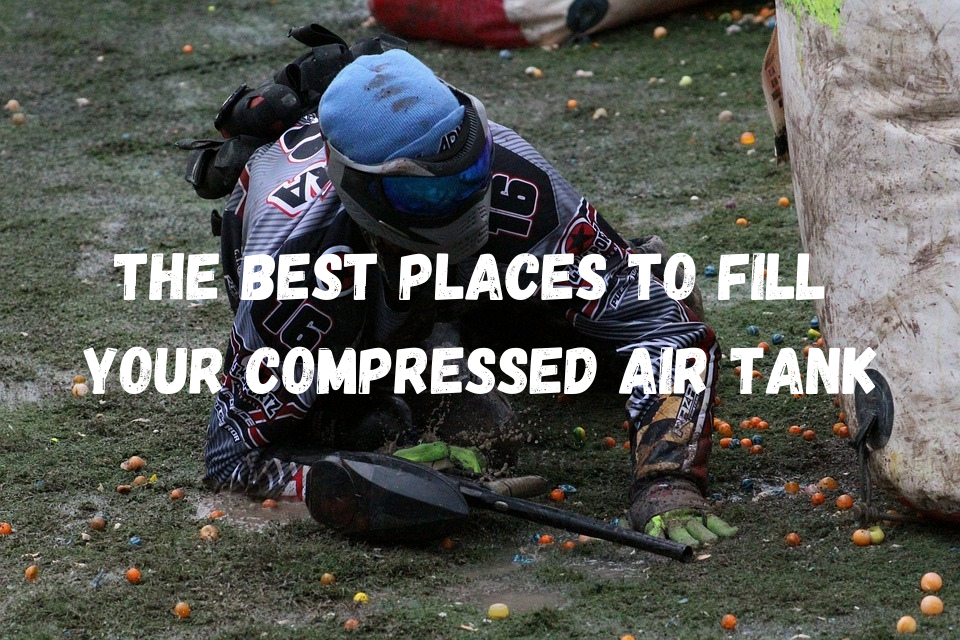 The requirement to fill a paintball tank of compressed Air is heavy-duty compressor and equipment. There are rare stores that offer quality refill air tanks.
This constitutes a common issue for paintball gamers. You can choose a cheaper store to refill or do it by yourself if you can spend more money. 
Paintball Shops and Competition Fields
The preferable choice is to go to a nearby or some local store or competition field to fill a paintball tank. Most of the outlets have facilities to refill tank along with proper equipment.
Suppose you did not find any refill store near to your area then try to find it with a local player. Sometimes they own a filler for suiting their own need. And they are filling one side to get some extra cash.
Scuba Stores
Because compressed air tanks for paintball function at a related pressure as scuba tanks, various scuba stores are also filling paintball tanks. Although it should charge just limited dollars to fill a paintball tank, and this might be one of the greatest suitable choices presented.
Fill Your Tanks at Home
If you are carrying a scuba tank then it means half of your work is already done. Many scubas stored refill tanks for paintball guns. The other option is you can purchase a scuba filling station.
A 3000 psi scuba tank has the capacity to fill a compressed air tank 15 to 20 times. This will ask the price of a few hundred dollars.
Do not try to fill a paintball tank with a tire pump or standard compressor because it does not work. Most of these have 180 psi, and a paintball tank required 3000 psi.  
Tips for Filling High-Pressure Air (HPA) Tanks
There are few instructions that you need to keep in mind while refilling your paintball tank:
High-pressure air (HPA) tanks have a "hydro date" representing the last time they were reviewed. All tanks required to check and balance after every five years.
Never use grease or oil on a tank's fill top. This will cause fire or blast because when these tanks are filling, they get heated or warm.
Protect your tanks from direct sunlight and try to avoid placing them in a hot car or hot temperature. This precaution is for all paintball tanks: pressure can build up and blow a burst.
A high level of heat can damage the seal of high-pressure air paintball tanks.
Cover your tanks in a fabric bag to keep them at a moderate level.
The slow filling is highly appreciated because if a tank is filled too fast, psi may be lost of psi as the air is cold. This means that your 3,000 psi tank may only end up with 2,500 psi in the end. Most paintball and scuba store operators know this, but it's important to remember if you're filling your own tank.   
Refilling your paintball tank is not a big deal as it seems, all you are need to know about your gun and select the above given most suited option to you. The good news is that there are many options available that you can go and refill your paintball tank, which cost only a few dollars.
Like you can choose Dick's stores, Walmart, paintball pro shop or sporting goods stores that usually have co2 and compressed air tanks and refill programs. For compressed air gun holder, they can avail this facility from a scuba store and really minimum prices.
Click Here so you can find out whether CO2 is better or compressed air.
The third and easiest and most affordable options do it at your home with the help of proper accessories.
I hope this article is helpful, and we can resolve this confusion.